I have a feeling this thread might not last long before I shut it down but here goes. I was looking at my upcoming guest's recent reviews and was looking at the prior places she has stayed. I found this review and response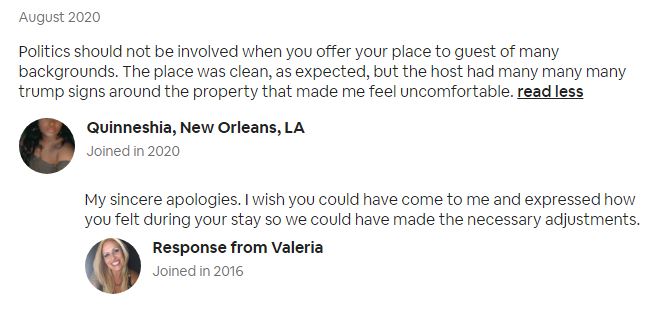 This is interesting to me because I have two signs in the front of my home that could be considered political and I have every intention of adding signs for candidates when they arrive in the mail.
My listing is pretty clear on at least some of these inclinations as I have one of the signs that's in the front as the second picture in my listing. As far as my dog boarding business goes I don't care if I lose clients, but I'd hate for an Airbnb guest to feel uncomfortable. I also feel strongly about the election so removing the signs isn't going to be an option. I only have one more booking after tomorrow's. Should I just shut down until after the election? Take a chance on a bad review? Put an additional picture of the front of my house after I get all my signs in place?