Hello everyone quick question about rules. How to make your idiot guests seriously take your rules?
When you figure it out let us know! The idiot ones just DON'T and usually WON'T, even with penalty fees.
Exactly. There are some guests that just don't care and unfortunately, most of them realize the the only consequence for them is a bad review.
However, I find that for the people that actually want to be respectful, but just haven't bothered to take the time to read the rules, it really does seem to help to meet your guest for tour of the property and and while giving the tour, try to establish a rapport and work in a few of the important rules into the conversation.
Raise your prices, screen your guests more carefully, rewrite your rules so they are more concise, print and post the rules in the unit, establish firm boundaries with immediate consequences to breaking the rules.
I don't know if this is the answer but I've always assumed that our guests are decent and responsible people. This has worked for many years, as I can count the number of less-than-perfect guests on the fingers of one hand. (Not bad as I've been hosting since pre-Airbnb and even pre-internet days).
I don't give guests a list of rules (other than the standard no smoking no parties sort of thing) but trust them. I don't issue printed lists of rules or have fees for transgressions.
I don't know if this is the answer but in most cases I meet the guests and therefore have some sort of relationship going with them. Even the rare guests I don't meet 'know' me due to our online conversations. I sometimes wonder if some hosts expect some sort of 'superguest' who always does everything perfectly - I prefer humans

Hi Brian I even sit with them and have a small over view of my house rules. Why is it so difficult for anirbnb guests just to follow simple house rules?.. I am so tired of this. I rent a room out of my apartment and one of the mayor rules is "NO EXTRA VISITOR" "NO EXTRA GUESTS". Simple reason if one is renting out the place to "that" specific person you don't want them to bing in anyone from the streetninto your personal space. It is already difficult to share the same space with someone that is not your family.
I agree with @jaquo. If you meet each set of guests and take the time to show them your listing, you cut the chances of "misbehavior" by – I'm guessing – 90%. Also – how you write your listing descriptions, and how you price your listing, can greatly affect the quality of guests you draw.
If the same rules keep getting broken then you need to be even more upfront about it. In the house rules and in person. No extra persons allowed or you will be asked to leave. Then follow through with it.
RR
I've read quite a few stories about people who rent their extra bedroom to a guest that brings home a new drinking buddy, a one-night-stand, a prostitute, whatever. I'm assuming that you're not OK with this because of morality, security, or loss of income (because you charge more for 2 guests).
From the security perspective:
Do you allow bookings for 2 guests? If you do, then it's probably hard to argue the security breach since you really only deal with the guest that booked. The 2nd guest could be anybody unless you tell them they have to submit their ID directly to you or something. Think about this: Guest books for 2, arrives at 3pm, says my wife/girlfriend will be arriving later tonight, guest leaves then brings home a prostitute and says it's his wife/girlfriend. You can imagine other scenarios, too.
From the income perspective:
Ask the guest to pay for the extra guest fee. If they refuse, contact Airbnb and have them cancel the booking for breaking the rules. You may not get every guest to pay, but I bet some will, especially if you catch it the same night instead of when they're checking out.
From the morality perspective:
Unfortunately, you're kind of in the hotel business, so if this is what really bothers you, trying to enforce it will be both difficult for you and bad for your business.
Could you post your rules here? And could you give an indication of the rules that guests don't respect?
This will make it easier for us to give some specific advice.
Hi GutHend I believe I already explained to someone else the issue I mostly having with my female guests
She says above that she does not want extra guests in her shared apartment.
@Zenita_Sarylinda_Gon It totally wasn't clear to me that this is the only problem you are facing. Is this with long (longer) term guests, or also with girls who stay 1 - 4 days? Is there something specific to your location that could be of influence? Party zone?
We also rent out 3 rooms in our "shared" apartment and, apart from someone bringing over a friend for half an hour, we have never experienced this problem.
Why? Let me think about possible reasons:
We have a limited set of house rules. The one about guests goes as follows:
"Only confirmed registered guests are permitted in our apartment. No extra guests or visitors after booking, this is for your and our safety."
or in Spanish
"Sólo los huéspedes registrados y confirmados son permitidos en nuestro apartamento. No se permite otros huéspedes o visitantes después de la reservación, esto es por su y nuestra seguridad."

Once someone makes a reservation, I tell them what exactly they have reserved and for how many people. This is a reminder of the fact that they are renting a private room AND of the fact that the amount of people IS important to us.

In our listing we put "Our place is best suited for tourists or business travelers who like a quiet, homey atmosphere." We always hope that this keeps the real partiers at bay.

We have a camera where people enter the apartment. Although this camera is not disclosed in our listing.

Our host's picture shows 3 people: Me, my hubby and my MIL. Maybe this creates a better sense of "social control" and deters the people who want to bring people home.
Hi, what will happen when a guest complains about your non disclosed camera?
I think there is a rule from airbnb about that. You should go and google it.
I don't know: What would happen?



Of course I have read several times on this forum that I have to disclose, but why or for whom exactly? It's a clearly visible camera that films the tiny area in front of the elevator. We are in a third world country where for security reasons there are camera's everywhere. Who will complain? And what is there to complain about? I just don't see us having the kind of crazy guest that would feel the need to complain about this. I might be wrong of course

.
To be totally honest: I'm also not sure where in exactly in my listing I should disclose it? It only seems to add to an already big amount of text guests won't read? And what should the disclosure actually look like? Do I have to specify where it is exactly?
Please feel free to enlighten me.
Hi everyone thanks all for your feedback. My place is set up as long-term for professional travelers that's basically my locations name. I rent out my place for no minimum of 28 nights. It has being so unfortunate that this has mostly happened with "female" guests more than males. My rules are very specific and I usually tend to ask potential guests to read my rules not once but two or three times before I approved them. I also do my homework in other social media before I approved them and go over their pictures and posts to give me a general idea of whom I am letting into my sanctuary. I know I may sound like your grandma with my rules but for me, my own safety, it's first and the must important thing. That's the main reason why I am using the Airbnb platform; because it supposed to give that piece of mind in background their people. (At least that's what we think they do because they did it on us right?). Bottom line I am tired of dealing with this type of behavior specially after my last two guest. One of them brought in two guys, while she thought I wasn't home (I was using the bathroom) she basically snicked them into her room and when she noticed I was home she give a dam sh*+% about me being here and told them "it's ok" and they all stayed in. The last one have a guy visited her, both got overly drunk and he got out of the room to use the bathroom, totally naked. I was sitting in my living room reading passing midnight as I wasn't able to sleep (wonder why right). He didn't even have the dicency of closing the bathroom door while he was peeing. I don't invite men or girls into my place. I have my values and can't think on giving myself to someone just for the sake of having casual sex. I truly appreciate your feedback and thoughts. As far for me I think I am done with Airbnb
Under, "other things to know" I think
RR
I don't think your problem is AirBnB, I think your problem is the longterm renting: People start to feel too much at home, they consider it a normal longterm rental where they have the right to decide if they bring someone home.
A possible solution could be to be really clear about the reasons why you don't want visitors (safety) and the consequences when they don't respect that rule: One 1-minute visitor => NEXT DAY YOU ARE OUT OF MY APARTMENT.
Although, you may have a hard time getting them out if they already stayed for more than 30 days.
Sometimes it's better not to judge other people.
Airbnb says you have to disclose it in house rules. It's under other things guests need to know about the listing.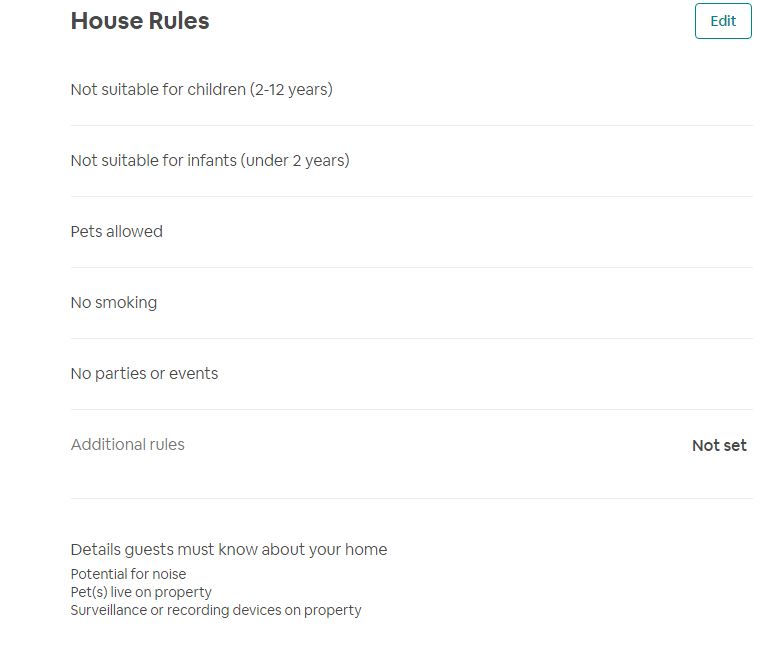 I also put pictures of my exterior cameras in the listing.
Airbnb's policy says this:
If you're a host and you have any type of surveillance device in or around a listing, even if it's not turned on or hooked up, we require that you indicate its presence in your House Rules. We also require you to disclose if an active recording is taking place. If a host discloses the device after booking, Airbnb will allow the guest to cancel the reservation and receive a refund. Host cancellation penalties may apply.
It only takes one savvy guest to complain and get a free stay. Plus maybe Airbnb suspends your account or makes you one of the desaparecidos.