Continuing the discussion from Help! Cancel a guest because she posts terrible reviews?:view
Well I did everything and more to ensure a perfect stay and she gave me 3 stars overall (at least I did better than 1!!) and 2's and 3's in all the categories. So her game is to be very polite, nice and seemingly very happy during her stay, so she gets a good review, and then bashes the unsuspecting host with a bad review full of lies. Hopefully my screen shot shows below.
Obviously she was really reaching for something to complain about because she can't even put her finger on it!!


Notes on her comments:
It's an induction cooktop, instructions are there but evidently unread.
The listing doesn't offer filtered water (our water is good here) or breakfast, though I do leave some cereal, milk, 2 bottles still and 1 sparkling water AS A COURTESY. She even messaged me and asked if the water was filtered- "No, but if you prefer I'll get you a large container of filtered water, its not a problem." Her reply "No thank you, I'm fine."
And all of my communication to her, aside from the first morning "Is everything good" message, was replying to her questions. GRRRRR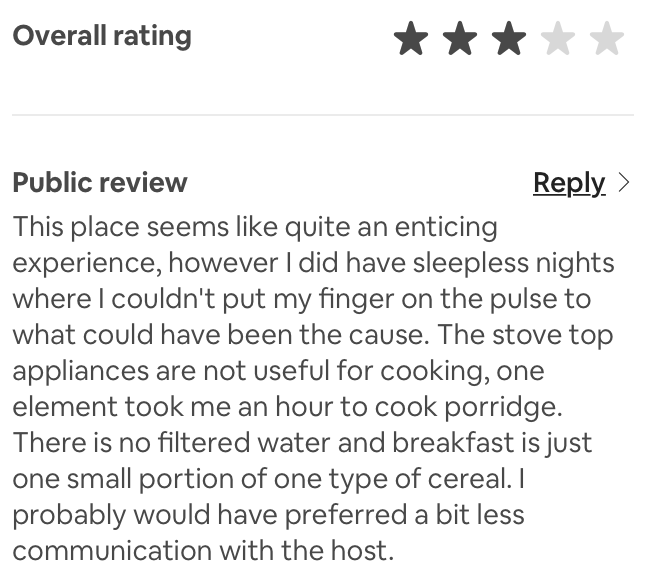 This review won't hurt me much, we have 92 5 star reviews, and one has already posted after hers. But for a newer host she could really cost them. I feel this guest is disingenuous and is going to leave a bad review no matter what, for whatever sick reason. This is 5 in a row now for her. 3 on Airbnb and 2 on Trip Advisor. All within a month or so.
Do you think Airbnb would look at her account for this?
Should I respond or just let it her review speak for itself?