Anyone know what these mean? on certain dates with a red dot on them?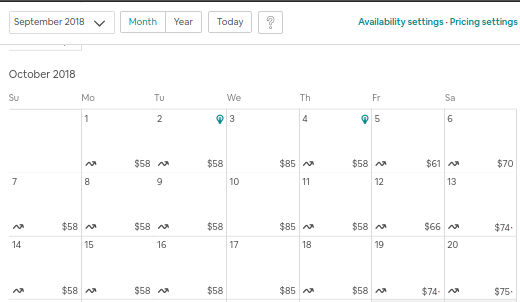 Here's a thread about this

Thank you! Hopefully someday Airbnb will clarify what it means
It is already clarified in the thread that @Maggieroni kindly provided for you @n3rdw0p.
But you can always call Airbnb and check, if you don't feel suggestions in the thread are correct.
It was just a board member speculating unfortunately. The other icons explain themselves but not this one.
Do come back and let us know then once you have called Airbnb to check
From that thread, airbnb said:
Red means that there is low demand for those dates in your region. This information can help you to perhaps adjust your price or another aspect of your listing to attract guests.
It's strange because my price tips are significantly higher on those days as you can see, if Airbnb thinks there is low demand, why raise my prices where it won't get booked?
My guess… it is likely a case of two sets of programming.
–One set (red dots) to tell you this is not a popular night.
–A second set (auto-price) that says you should have your price at $74 per night - using some algorithm.
Two sets of programming that do not take each other into account. As a programmer - I call it "silos", or "one hand doesn't know what the other is doing". It can cause the user experience to not be what you want it to be. (no - I am not an airbnb programmer - but my day job is programming - trying to work in a team environment can sometimes result in things such as this)