Hi, Is it normally quieter in winter than in the summer, or not much difference? I am concerned.
It depends on you, your rental, your nation, what your niche is.
I'm in the US along a major interstate in the only city of any size for 4 hours in any direction. I'm busy year round; 85% booked all the time.
I book mostly to road warrriors who arrive for one night. I do last minute, same day, back to back bookings. If I had minimum stays and days between stays and early booking cut off times I wouldn't be so busy.
This is typical for me. Note today and tomorrow got booked yesterday.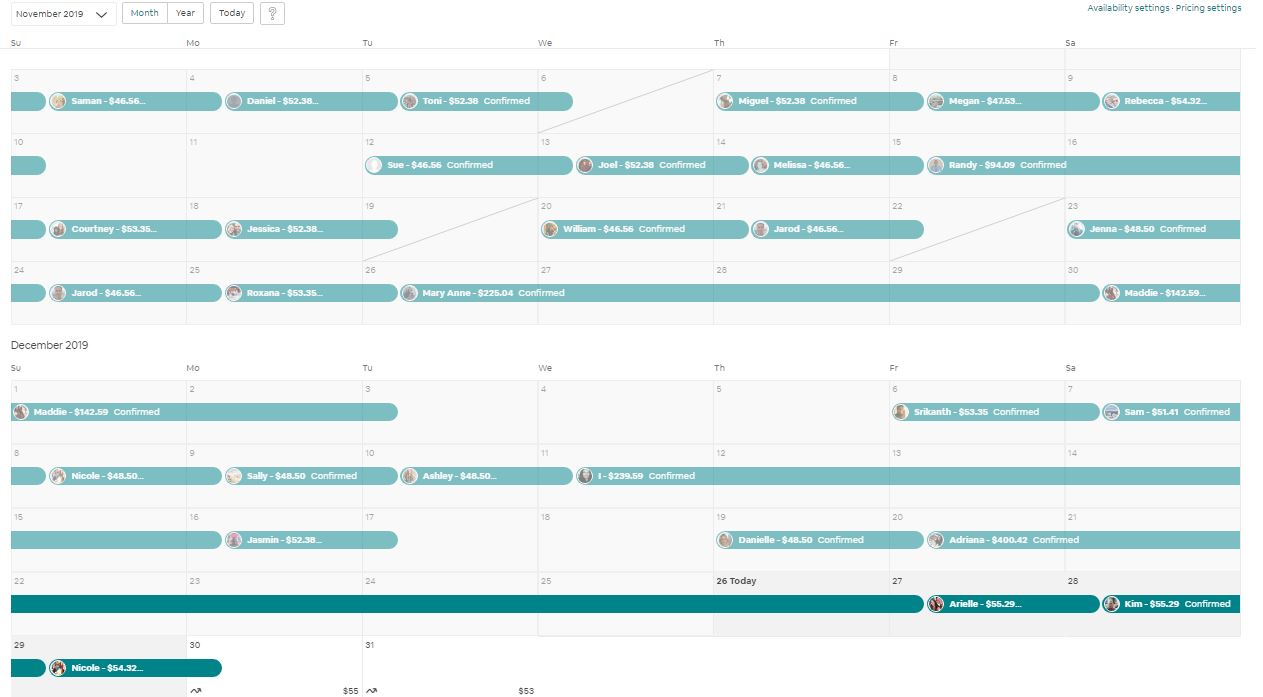 For us, in the US Midwest, winter is generally quieter. We're more likely to get booked on weekends but not as much during the week.
That's why, for this winter, we have a three-month guest on a lease in one of our Airbnb rooms.
It definitely depends where you are. Where I am, the 'winter' (November to the beginning of May) is our tourist season traditionally. But we keep our apartments full year round by promoting them on social media, personal networking and so on when Airbnb bookings are more infrequent. You may need to do the same.
Thank you, there are so much to learn. Why wouldn't people accept last minute booking? and what is back to back booking please?
Thank you for the advice!
Back-to-back booking is when one guest leaves the same day the next guest arrives. Sometimes it's called a same-day turnover.
People might not want last-minute bookings if they haven't had a chance to do all the cleaning. People who work full-time and don't have a hired cleaner may not be ready for a new guest by check-in time on the day a guest checked out. Or maybe they just want a break between guests.
Tell us about your listing. What city is it in? How long have you been hosting?
In addition to what was already mentioned, some hosts claim to have more problem guests with last-minute bookings (also called "same-day bookings"), although this seems to be dependent on other factors too such as the location, type, and price of the listing, and also whether the guest is local or not.
My house is in Cambridge UK city centre, 3bedrooms one bathroom full house, I don't live in there, just about to start.
Like @jaquo where I live in Florida, winter is our High Season.
Cambridge probably has a lot more foreign tourists in summer than in winter. But you should get parents visiting students around all the Uni breaks.
3Br/1B is a BIG place as a single rental – pretty much whole families only. Or are you letting each BR separately?
I have a three bedroom, one bath and while I do get a lot of families, I get a surprising number of singles and couples. This may be because I allow pets and have a fenced yard for them to play in - I know when I travel by myself I will pay a premium for those things.
I charge per person over two.
Thanks, I rent whole house, any suggestions?
Starting in the dead of winter doesn't seem like a good timing. I don't know anything about that market though.
Hi, how do you list your property, rooms or entire property, or both?
Best thing is check the "comps" – comparable houses in your immediate area. Are they renting whole-house or rooms? At what price? There's an old business adage about "making fast nickels or slow dimes". Three lower price units with quick turnovers will perhaps make more money than fewer whole-house rents.
Do you mean you list a entire house and charge based on how many people stay there? How would a single person rent a three bedroom?
Or Do you need to creat separate listings for each bedroom and a listing for the entire house?
Do you have lock on each bedroom door?
Do you have a commercial license or are you planning to run illegal?