I recently had the chance to review a host. I was unable to make the trip but left a review saying as much so that I could see what guests see when they review. It looks very different from the last time I did one. I thought maybe some of you might be interested too. I'll go in order, but will note that I was able to navigate backwards until I clicked finish. Identifying information has been blocked out for privacy of the host.
Some of the screens, cued up more details to tick once I chose an option. The extra details were nearly always the same for the top two levels and then the same for any level 3 and down. This reinforces the idea that if it isn't a 5 or 4, it might as well be a 1. I included screenshots of how the level chosen changed the detail cuing. I included screenshot of anywhere that a variation exists or extra information is requested.
Self-explanatory. A 4 Stars is the same but with only 4 Stars: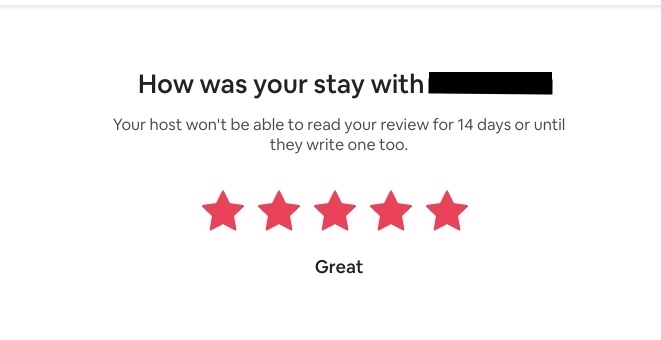 Starting at 3 Stars and down, an extra message pops up about safety: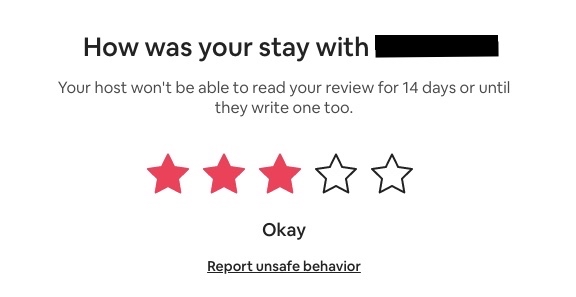 The Star Ratings are no longer based on expectations, e.g. worded as "Better than Expected", "As Expected", etc is gone and the cuing is now much more reasonable. Great = 5-Stars, Good = 4-Stars, Okay = 3 Stars ( I think Not Good was 2 Stars and Terrible was 1 Star. This is great news because Great, Good, Okay, etc is much more straight-forward and does not ask the guests to directly consider what they were hoping for prior to arrival.
Then the subcategories were uneventful. There was no extra cuing regardless of the Star Rating chosen. The same with the Private Note and Public Review, very straightforward:
Then this screen soliciting more information from guests that Airbnb says they will keep anonymous:
Now there specific questions about the listing. If one of the top two choices are ticked, then the additional information boxes are neutral or positive and the same for both. If the third choice or below is chosen then the extra boxes are more leading or negative and the same for all from 3rd down. If "Other (specify)" is chosen then a text box appears and you can, seemingly, write whatever you want. I bet there are some intersting ones, wherever they are.
The "how well-equipped" questions hold lots of hints and information for hosts:
Amenties and Parking did not trigger any extra boxes regardless of what was chosen. You did not have to make a choice/answer them.
Accuracy only triggered more boxes to tick if "Extremely" was not chosen. So, it's either accurate or it's not. The same choices were given to explain "mostly accurate" and "not at all accurate".
"Address" and "WiFi" did not trigger any extra boxes regardless of response:
"How Accommodating was Your Host" also has a lot of hints and good information for hosts:
And that's it. You can see the Finish button on the bottom right. However, you can use the Back button to the left of it. After going through all of the questions, it made me think about things more. If I had actually stayed, I feel confident that I would have gone backward after answering the questions, either to give more information or change something.
So, even if your Wifi only crapped out on the first night of a guest's stay and they had forgotten about it, they will be reminded of it as they go through the questions. But I think this format is a huge improvement over all of that stupid expectation based ratings crap and those stupid compliments (which fell off around May of this year).
Is this the longest post ever??