Hi @hypertokyo, long time since we have "seen" you. My sympathies for your business at this time. I know it's going to be quite a shock to go from hosting Olympics to our current bleak outlook.
Anyway, others have posted this exact same thing although no screenshots so thanks for that. I suspect it's a glitch that they have no time to work on. Or it could be because of reported scamming. People are writing to whole home owners and offering pennies on the dollar cash payments. I'll link the thread about the scam.
I wish someone that this has happened to (on the guest end) would post exact details. When does this message pop up? As soon as you look at the listing? After choosing dates? Before or after you get to the payment screen?
If I knew more I could check and see if it is happening to my listing. If it is, I could try to fix it from my end.
And what's with the redirecting guests to book a hotel? Why not encourage them to find a different listing instead?
So I went to a whole house listing I stayed at last year and checked the calendar for an open date. I put the dates in and hit reserve. There were no roadblocks anywhere. I could have booked it just like I did last year. The only difference is the little pop up for cancel policy.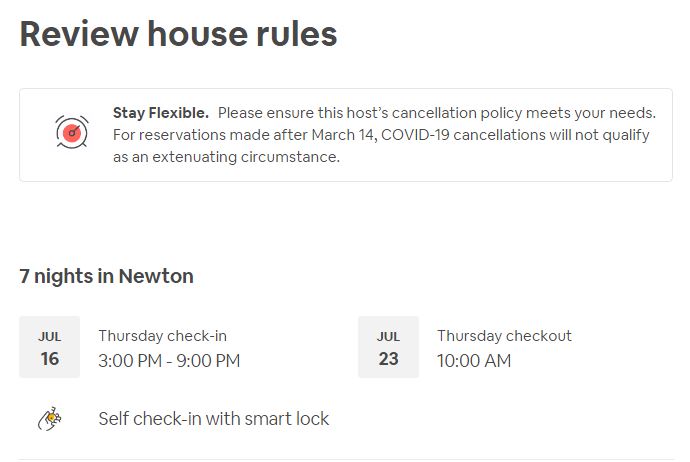 I think this is only being done on certain listings, maybe certain places.
Thanks @KKC


.
Keep in mind I'd stayed there before, I haven't checked for random place.
Hmmm. It is also not a "last-minute booking".
Wow that's a slap in the face to us superhosts. Guess I'll come back and laugh at them in 2 months after I've got a long term tenant and they've alienated all their 'entire place's listings.
How many desperate new people do you think will be signing up to be hosts? You know like all those furloughed workers with no savings but they have a house? They move in with mom or grandpa and list their house?
Lol that must be who they're counting on. What a joke. Will be great money with all the guests that AREN'T coming anymore
Everyone needs to prepare for a massive recession and hope that we are wrong.
The guy whose videos you won't click lol says that someone at Air told them that this is being done by the software when young (under 21 iirc) guest tries to book a whole house last minute, to try to curb partying. I took it with a grain of salt. Sounds like conjecture out of a CS rep's backside but who knows.
I would like to block under 21 guests full stop. I would be irritated to know the software can be ageist but I can't. (Yes, I already do block same-day bookings.)
Yes, you are correct- it was reported yesterday by a host on the Air CC- he had posted a couple days ago and so had a couple other hosts whose guests got that message when trying to book or extend. Then he posted again saying he had talked to Airbnb and yes, it's a new algorithm they have which blocks under 25's from booking an entire house listing on short notice, to try to cut down on the party issue.
Welp that confirms it. I'm a little ticked.
At least they are trying to do something about it. Not sure how much this will help, but…
Also very funny that they are then sending the suspected partiers to a hotel.
Thank you for clearing that up! I will delete COV ID from the post title to avoid confusion.
Lets be real, it's Airbnb's software, so it's Airbnb that's being ageist while telling their hosts they can't be. They analyzed the data about parties that caused the most damages and found a pattern, but they didn't want to publicly state their findings in their "party prevention" propaganda because they don't want to alienate that age group. Now they're trying to sneak it in under the radar by not telling hosts or guests why the guests aren't allowed to book. So much for transparency.
While I am not a lawyer, I am not sure that being "ageist" is illegal. The anti-discrimination housing laws do not include "age" under the "we do not discriminate based on…" list. In Palm Springs, it is a City mandate that at least one person over the age of 25 be part of the group staying at the property during the rental period. Moreover, most advertising for vacation rentals in Palm Springs includes language to this effect, as well as language that states "this is not a party house." Perhaps I am missing something, but based on this I see nothing wrong with minimum age requirements, prohibiting parties or events on your property and saying so in you advertising. Some cities even require it.