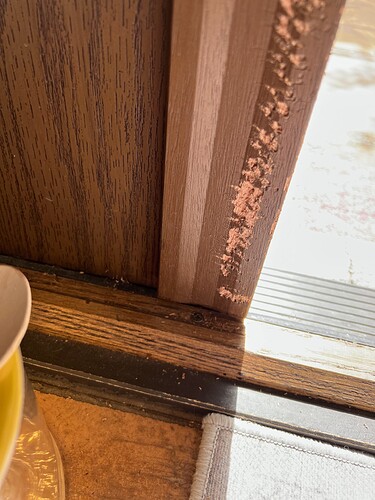 I've hosted plenty of dogs, even three at a time, mostly large dogs. This is my first instance of any kind of dog damage.
I estimate this dog to be about 8 pounds–a really tiny dog. i could have held this dog in one hand.
I repaired the damage myself using sand paper, high quality DAP vinyl spackle, and artist's oil paints. Sometimes those painting classes come in handy.
It looks good but of course it's not as smooth as the original, and I might need to replace the whole trim piece eventually. I asked the guests for $75 to cover my time and they sent it without issue.
These guests had 0 reviews. I normally don't accept such guests but I made an exception. I am not doing that again.
Of course it's the human's fault, not the dog's. But this shows that small dogs are not necessarily any less destructive that large dogs.
P.S.: This is chewing, not scratching. The door withstands scratching really well, it's fiberglas.