What does one include in the fridge for the arriving guests?
@Dylan Depends on your set up, price point and how you are marketing your listing i.e. high end, basic
What do you provide in yours?
On the mantel is a bottle of good but inexpensive ($3) wine and a dish with 5 chocolates. In the fridge 2 bottles of water and a container of half & half creamer.
I leave out a little basket of snacks and some fresh fruit.
In the fridge there's bottled water and coffee creamer.
I got tired of spoilage so I provide powered creamer, sugar, fake sugar, hot cocoa, coffee (for traditional coffee maker), assortment of teas, granola bars, oodles of noodles, instant oatmeal and a I pitcher of filtered water. Guest seem to appreciate the items and I don't have to deal with things going to waste.
I guess compared to others, I overdo things, but I sure get nice comments about it all! I supply a fresh loaf of bread, dozen eggs, condiments, bottle of wine, 6 pack of water, package of breakfast sausages (pre cooked), Napkins, spices, oils, pasta, 2 cans of soup, can of spaghetti sauce, can of frozen OJ, 4 trays of ice cubes all ready frozen, extra toothbrushes, small tube toothpaste, make-up remover pads, etc. Basics.
Good thing? lots of people don't use much of it but they sure do like that it is there! I get awesome comments online and in my "Autograph book".
I have a tray with
a small basket of fruit, bananas, grapes
two eight ounce bottles of wine; (one for each adult)
coffee machine with coffee, tea and hot chocolate
two to four small bottles of water (determined by no. staying)
In the bathroom I have another small basket with travel-size toothpaste, face and body lotion.
I provide full ice cube trays (including skinny ones they can out in their water bottles), a box of it already made up as well. I provide a coffee/decaf/flavored/tea/cocoa pod per guest per night, unless it happens to be a single night for a higher paying probable good Guest then I have provided one of each. I also provide left over condiments or whatever from previous Guests. I also provide a lot of extra bags for the pet people to put their pet poop into to double bag and put in the outside trash…no excuse that they didn't bring any! I also provide crates/kennels for pets if informed ahead of time (choice of sizes from small to giant and either metal or airline regulation plastic).
Additional soaps, shampoos, conditioners, lotions, toothpaste, deodorant, shower cap, mouthwash maybe.
In the kitchen: 1/2 gal whole organic milk; pint of half and half; one dozen organic eggs; 2 or more sticks of butter; a loaf of sourdough bread; jelly; peanut butter; olive oil; vegetable oil; sugar; truvia; honey; a full compliment of various spices; an assortment of teas (black and herbal) and an assortment of Kuerig pods for coffee and hot chocolate, plus an assortment of coffee beans and ground coffees. Usually, I will have frozen cookie dough in the freezer fOr the guests. Departing guests often leave behind various condiments and salad dressings which I leave for new guests to use as they wish. Anything past the "sell by" or "use by" date is removed.
In the bathroom for guests I keep: shampoo; conditioner; body wash; body lotion; men and women's razors and shaving creme; extra toothbrushes, toothpaste; baby wipes, makeup remover wipes; men and women's spray deodorant; menstrual pads, bandaids, and liquid hand soap.
Guests never use all of it; most of them use little to none of it. But I get tons of compliments in the reviews for providing it.
I am truly astonished by this thread

We provide a bottle of drinking water. And we only do that because we are required to do so to comply with local health regulations

I provide coffee and tea. I also provide a small fruit basket on the counter and cookies in the cookie jar but nothing in the fridge.
Just to be clear, the dog crates are for their use while at my listings, NOT for them to take with them.
I provide Gal of Milk, Juice, Fruit, Bagels, Cream Cheese, Canned Folgers Coffee, Yogurt- I have enjoyed these items when I have stayed at Airbnb Homes, which at Costco I pay less then $20.00. I am chaging enough for my house that sleeps 7 to make it doable.
Sandra
Every rental is different. My beach rental target audience is budget family rental. Also I manage remotely. I provide:
a basket of basic toiletries with the sign "forget something. Please take what you need".
Large containers of shampoo & soap.
Cleaning supplies
Salt pepper &a few cooking spices
No food. No drink. I'm not there to stock between visits.
Aside from an assortment of drinks in the fridge we have a welcoming drink of lemongrass tea or coconut juice. The bathroom is stocked with all essentials. We also give a note expressing our thanks for the booking along with a hand made paperweight made from an exotic wood. The front features a butterfly which is our logo and the back has our names and date.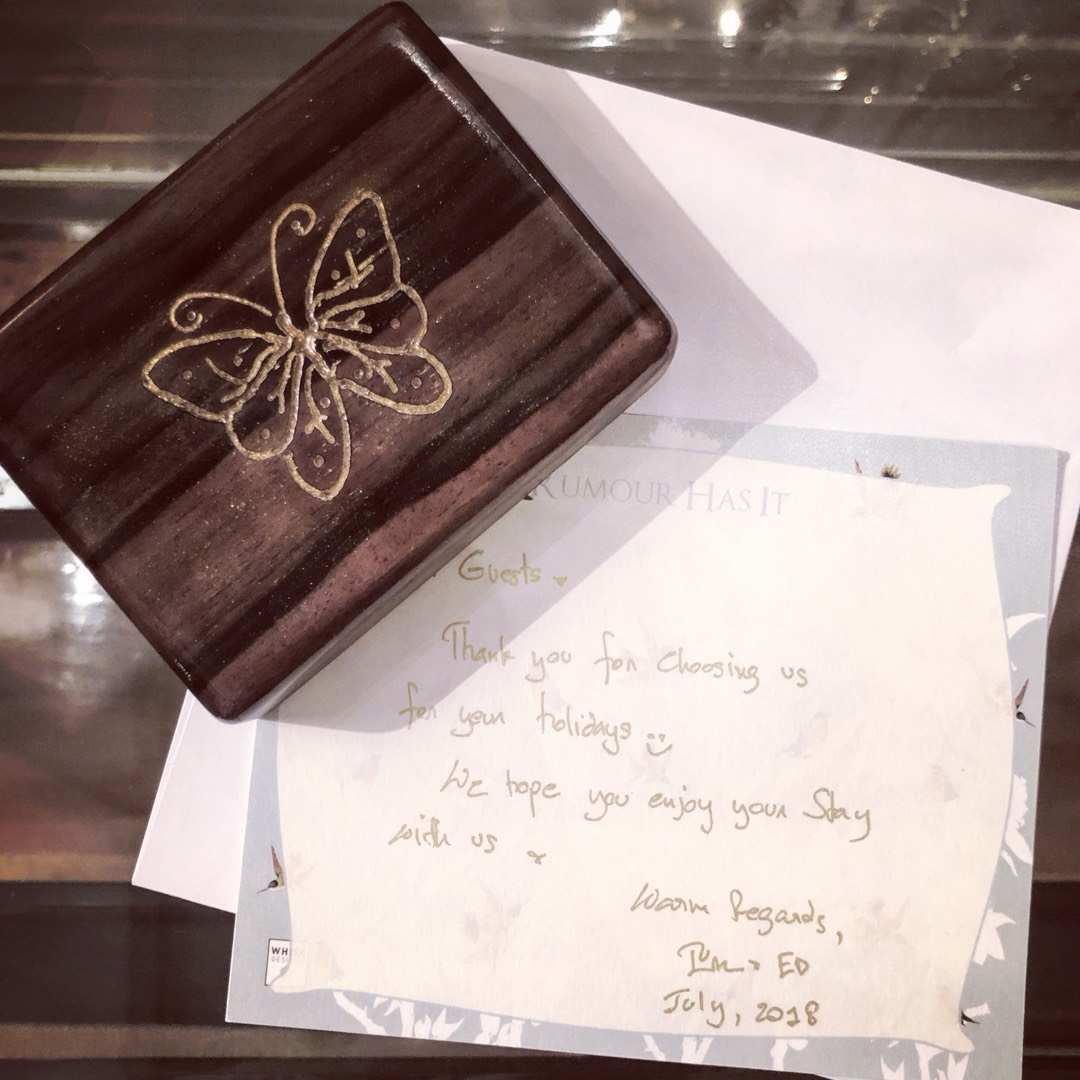 I provide filtered water in a large dispenser bottle.
I offer "light breakfast" but because I don't want to waste things, I ask about preferences in advance.
In the fridge, there's always some LaCroix sparkling water, whatever they put in their morning beverage (milk, half 'n' half, etc.), yogurt or hard boiled eggs if chosen, or cream cheese and bagels if they've chosen that.
Fruit, if chosen.
Cereal and milk, if chosen.
If there's anything fresh from my garden, like grapes or berries, I'll include some of that.
The morning beverages they selected (I offer coffee, tea, hot chocolate).
A couple of welcome snacks, like popcorn or small individual packages of nuts.
Some kind of sweet treat (maybe a few Almond Rocas or cookies).
Ice in the freezer.
I also keep some basic spices, cooking oil and condiments in the kitchenette.
That's why it's great to read a host forum to see the varieties of hosting.
I am up to 7 kinds of Twinings tea bags, coffee, milk, creamer, water, juice, cocoa, granola bars, microwave popcorn, cookies and muffins. In the bathroom I have travel sized shampoo, conditioner, soap, deodorant, toothpaste, lotion, and sanitary items. The water, cookies and muffins are usually gone. Some others will pick at the other items. My guests who left yesterday ate/ drank everything I had out. It balances out. I think I spend an average of $6/ stay on goods.
We have: a welcoming local rum punch, red and white wine, local beer, Coke, Sprite, fruit juice, milk, a light dinner of roti (like a burrito but with Indian curried vegetables and chicken or just vegetables), crackers, cheese, tea, coffee, eggs, bread, butter, jam, bacon, cereal, and local fruit. The pantry has salt, pepper, sugar, sweetener. We provide bottled water (a five-gallon jug on a cooler-dispenser). For larger groups, we add a salad.
We are in a rural area a 10-minute drive from a grocery store and 10-15 minutes from the nearest restaurant. Nothing is within walking distance, and all our guests fly in on international flights, frequently traveling for 10 hours or more. They really appreciate not needing to grocery shop right away and not needing to go out to a restaurant minutes after they arrive in order to get some food.
Our price is high, too - we start at $400US per night and require a minimum of 5 nights unless we have a small "hole" we want to fill between longer bookings.
For me, depends on the length of stay. I have left a carton(24 btls) of water for a guest staying 1month, 2 cans soda, 2 cans beer, a tray of cookies, a bar of chocolate, freshly made orange juice. Otherwise, it's always just 2 btls of water, 2 btls soda, and cookies for a 5 day stay.