Hello everyone. I've been on a semi-break from hosting and am currently having my BnB's small bathroom remodeled. I'm getting subway tile with charcoal grout in the shower, a vinyl plank "wood" floor, new fixtures, and a fresh coat of paint. I'm working with a wonderful contractor who has been very timely and communicative. He's a keeper!
Here is my ugly "before" picture I snapped on my phone.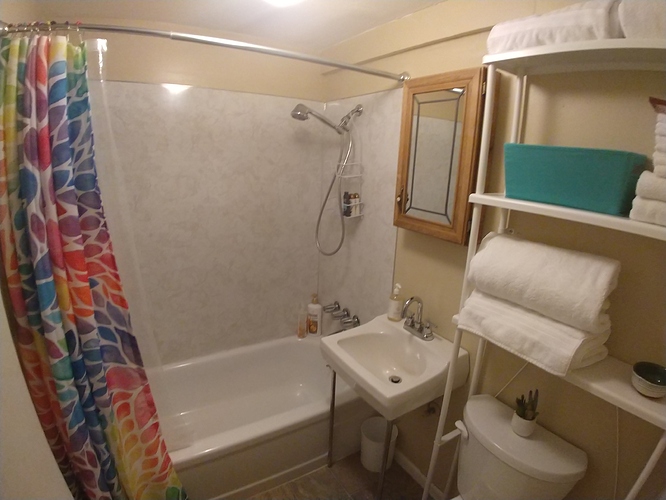 This is what I sent my contractor as the look I'm interested in: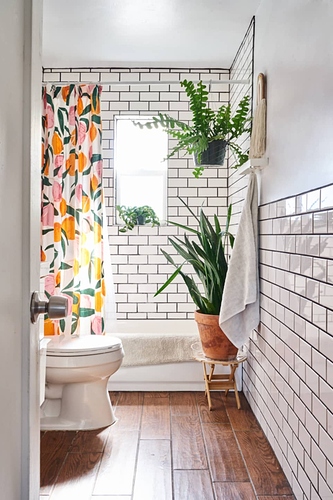 What I'd like help with from the kind folks here: I need storage for my guests' belongings and somewhere to both present the towels and for guests to hang the towels.
I really like the floating shelf with towel hooks underneath. This would fit behind the door in my tiny bathroom. But haven't been able to find anything like that on Wayfair or Etsy, my usual go-tos.
I'm having trouble finding a medicine cabinet I like that fits the space. It would need to be less than 22 inches.
Lastly: storage! I currently have a metal and plastic above-the-toilet rack I think from Ikea. I like its functionality, but it isn't very pretty. I'm interested in ideas to replace it. I love Ikea's Hemnes line for affordability and durability, but most are too large for my bathroom.
I'm open to a below-the-sink vanity but the sink is only 17 inches wide and the total room for the sink (were I to get a new sink-vanity combo) is only 22 inches.
I'd love suggestions on how to do the shelves and storage, or links to specific products. I am not looking for a critique of what tile/floor I've chosen for the bathroom as I love my choices and the installation is already underway.
Thank you in advance!