We have the most lenient/flexible option selected, for our cancellation policy. Here are the options…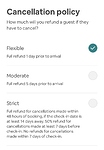 This morning, we were communicating with our guest who would show up this afternoon. then at about 2pm (our checkin is at 3pm) we get this text…
Hey I'm sorry it's such short notice. We won't be needing the space tonight any longer. We just may be a bit loud coming in late and want to respect your home. It's also a bit further than the venue than we initially realized. We realize it's last minute and will accept any fees. Sorry for any inconvenience
Per our suggestion, they canceled through the app and I got the following email from Airbnb: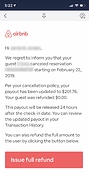 I feel torn because if I were the guest, I would not expect… but definitely appreciate a refund if something in my plans changed. Of course, there's the argument on our (the hosts) side, which is that now we won't be booked for the weekend and we're out the $200 that we would have received if they canceled sooner.
What would you do?! Would you Issue Full Refund?