Snopes says this is mostly false.
If you read the Snopes article, it says:
What's True
Amazon is temporarily prohibiting third-party sellers from shipping and storing non-essential items at its warehouses until April 5, 2020. This will likely impact the products available for "Fulfillment by Amazon" (FBA) orders in the near-future.
Which is what I said above. I did not say they weren't shipping non-essentials, just that they were not restocking them in their warehouses.
I love schnauzers. Over 1989 to 2016 I had a series of 3 minis: A Salt & pepper, A solid black & A black& silver. Great dogs
@RebeccaF Thanks for that video- it's awesome. Wil be forwarding to many who'll appreciate it.
Hahahahahahahahafart! Oops
This one made me chuckle. Wasn't sure where it was going at first but then…

This made me belly laugh. Hilarious!
We were invited to our first virtual dinner party tonight by our good friends Jeanne and Wayne.
Virgil made us meatloaf, a peppery baked potato with a crunchy skin, and steamed broccoli.
We set the dining room table with leather placemats and autumn napkins, loaded up our plates, had crystal water glasses, and sat down. Then we used FaceTime to connect with our hosts.
They showed us their spinach frittata, salad, and apple cake. And they had Mozart playing in the background. Our background music was greyhounds barking.
We talked for a couple of minutes, toasted each other, and then rang off to eat. It was lovely.
We forgot to photograph the food, so here are our table decorations.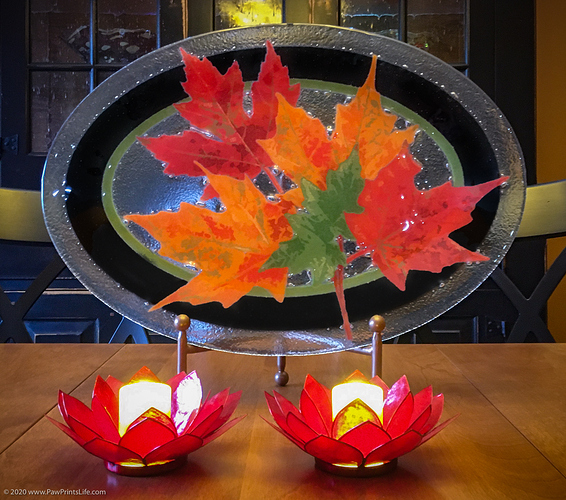 I think most will have already seen this, but just in case you haven't:

JF
For those old enough to remember The Knack's 1979 'My Sharona'
This is gold.
20caratker gold
I have another version of the same song:
This whole thread is gold. I can't thank this forum enough.
Neal Diamond has responded!
Aw, thanks for this. I was supposed to be seeing Les Mis in the touring production here next month. They haven't canceled yet but I expect it any day now.
As @JohnF would say, feckin' brilliant. Thanks so much!