Vacation rental owners are always looking for opportunities to get more bookings, increase their occupancy rate and make more money. One of the best ways to do this is to make sure your listing is available on all of the popular travel booking websites – Airbnb, HomeAway, VRBO, Expedia, Booking.com, Flipkey and many more.
Our team at Tokeet has spent the past 5 years working with vacation rental owners to help them get more bookings, but we keep seeing them make the same mistake. Too many vacation rental owners list their property on only Airbnb.
Airbnb is the biggest player in the vacation rental industry and deserves a lot of your attention. However, ignoring the other booking channels is a huge mistake. It will lead to more vacant nights and lost revenue opportunities.
As you can see, direct bookings and platforms other than Airbnb continue to make up the majority of bookings: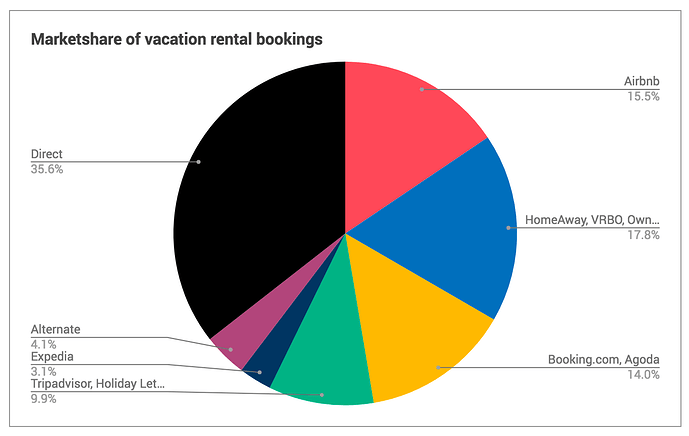 The reason why many vacation rental owners choose to focus on only Airbnb while ignoring other booking channels is because it's a lot of work. Constantly keeping every channel updated with your latest availability and pricing is quite the headache. Fortunately, savvy vacation rental owners have discovered how a channel manager can automate all of this work for them.
A channel manager is one of the most powerful tools for vacation rental owners. It allows you to list your property across all the major websites like Airbnb, Expedia, Booking.com, HomeAway and every other platform you can think of. Your availability and pricing is synced across all of these channels so that you can sleep easy knowing that everything is up to date.
We've been privileged at Tokeet to work with over 7,000 Airbnb hosts and vacation rental owners to build the best channel manager. They all seem to ask us the same two questions:
How can a channel manager help my listings?
Is it easy to use?
A channel manager will make a big difference in taking your vacation rental business to the next level for these four reasons:
Your Occupancy Rate Will Increase
Say Goodbye to Stress
No More Double Booking
Optimize Your Rental Rates Like a Pro
We encourage you to try our channel manager and see the impact it can have on increasing your revenue on your vacation rentals. Try us now for 15 days Free (no credit card required).