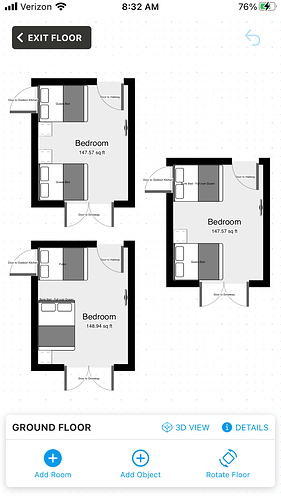 I just found this incredibly helpful forum and I am in need of some advice for how to arrange the 2nd bedroom of our soon-to-be vacation rental house near the Florida gulf coast. Our main target guest is families with kids.
The house is about 2300 square feet, with 3 bedrooms (one being a loft), 3 bathrooms, a big outdoor kitchen and pool.
Master = King bed + futon
Loft = Queen bed
2nd bedroom = ?
Hopefully the picture worked right to show the following ideas I came up with:
Top Left: 2 Queen beds
Middle Right: Bunk Bed - Full over Queen + Queen bed
Bottom Left: Bunk Bed - Full over Queen + Futon
4th option not shown: Bunk bed - Full over Queen + Full bed
I think we want to target no less than 8, likely 10 guests, no more than 12 guests.
In the layout the door to the top goes to laundry room/hallway;
Door to the left is a redundant door going to outdoor kitchen (there is a main door in the laundry room/hallway that goes there);
The double doors lead to the driveway (front of house) - would want to leave one egress door unblocked for fires.
Concerns:
Want families to be drawn to listing more so than multiple young couples;
do not want too much extra work for housekeeping (namely making heavy bunk bed mattress);
Dining room will seat 8 + 4 barstools at kitchen
Living room would seat 7-8 at once in couches
Outdoor kitchen will easily fit 12-16 people