Nope. Not sure why. In my region, there are hosts with less than 4.79 who have it and 4.95 Superhost who don't. The criteria is very vague.
I did a test search for my local area. It appears that if the property is "Guest Favourite" and the Host is "Superhost" (which we are both) only the "Guest favourite" badge shows up in the initial (thumbnail) search results. If you click through to an individual property, both badges show, but "Favorite" is much bigger. In my search more than half of the thumbnails showed as "favourites" One showed up as "Superhost" in the thumbnail
I found something similar when this feature was introduced a few days ago.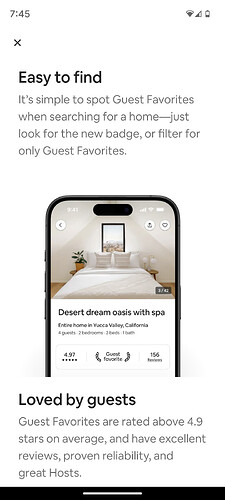 The scoring metrics behind the average of 4.9 is not clear as there are listings with lower ratings such as this host.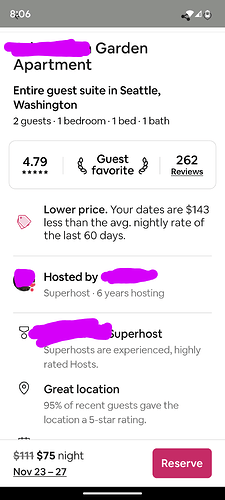 We are also now ranked on the sub-categories so those dinged on things we can't change–value (AirBnB fees) and location–won't make the cut. However, I haven't found what is actually the metric used for the sub-categories. I've been hosting 8 years and have an 4.82 average. I've inched this up from 4.8 due to following advice here and getting better at hosting, but I'll never be able to raise my ratings to 4.9 because I have so many reviews.
Since you only need five reviews to get Guest Favorite, I can foresee some deleting and relisting when they drop below the threshold.
I am happy if Airbnb is trying to get rid of poor quality listings, but I'm finding a lack of clarity about what expectations we are meant to be meeting.
To be honest, I don't want to waste any brain cells on this. If guests book and are happy, that's all that matters. I'm sick of Airbnb trying to drive guests to the listings they want them to book and stressing hosts out about whether they get some new badge or not. I really don't care what expectations I'm supposed to meet to qualify. I got more bookings in the year I lost Superhost than I ever had previously.
I will eventually, but at this point I haven't even searched to see if I have that badge. I have a major upholstery project to work on, a guest room to clean, and a guest arriving tomorrow- being a "Guest Favorite", whatever that's supposed to mean, isn't my priority.
Airbnb will always come up with some new carrot to dangle, because they seem to think that's imperative in order for us to bother to be good hosts.
It doesn't make sense to me, either. We have 36 reviews and a five-star average and are "Guest Favorite". Our neighbor, with a 5.0 and 57 ratings, isn't. We are both are superhosts. I think they get more bookings from AirBnB than we do. And our prices are usually higher than their prices.
Agree 100%. It was a shame that I could only 'heart' your post once so I decided to post to add more.




That's an interesting perspective. I'll bet you are right, and that "Guest Favorite" will move around, maybe even fairly frequently.
I've been looking at going to a few places I've stayed with Airbnb before. I can't believe how many places I knew are gone, prices up and the goofy "guest favorite"/super host.
And, what drives me really crazy and I know both of these areas is listing places 50 miles away or a 17 mile $20 bridge away.
Longing for the old days.
Edit. Today I looked again at one of the areas I was considering and some familiar properties showed up.
Another complaint, you put in your $$$ limit, how many people, animals, beds, baths and it ignores everything.
So fricking lame on essentials yet they keep introducing stuff that adds nothing. Everyone should log in and put limitations to see what guests go through trying to book.
I'm not a newbie being a guest, probably stayed at 25 places over the years.
End of rant.
They tried that, trying drive bookings to listings they wanted guests to book, with the "Split Stay" feature, which guests are still posting about on forums, saying they hate it, there's no way to turn it off, and that it caused them to book through other platforms.
But once Airbnb has implemented one of their brilliant ideas, they never seem to be able to admit that it was a bad idea and kibosh it, no matter how many users it turns off.
From a host post on the Airbnb CC-
"Hi, This is what I found today (and there are dozens of them in Seville).
A "Guest favorites" apartment with reviews that indicate problems of cleanliness and a photo that looks like a prison apartment !!!."
The criteria stated for Guest Favorite is so vague and variable (some nebulous algorithm that takes into account multiple factors, at varying degrees, rather than the clear criteria for Superhost) that I'm sure this is just a way for Airbnb to drive bookings to wherever they deem fit at any given time. Will be interesting to see if hosts find they are a Guest Favorite this week, and not next week, even though their ratings and reviews or anything else didn't change.
Like any 'recommendation', a place that is a 'guest favorite' could be pretty scary - a place that is dank dirty and dreary, but has been booked numerous times for its proximity to a bordello, for example, and given 5 starts for that, for instance.
Like the trope 'treat the airbnb like you treat your own home', it is scary to think that people will book somewhere because of that - it says nothing about quality of the stay, but everything about how 'popular' it is - and without context, becomes meaningless.
Awww come on, y'all are trying to make me eat my blanket for having Airbnbn notice me! I have high hopes this new s%$## will turn into bookings!
I guess I've just fell into some those parameters ( female, 100% reliable, no issues, rosy reviews etc etc) but certainly not those categories HAHa
I'll let you know if it goes away …
We got it as well and are happy to be noticed

Or it's a "favorite" that gets booked a lot by 18 year old guys because it's the cheapest place in town, who don't even notice or care about the grungey bathroom sink.
I did too!! Had a great feelings to it.
Don't waste your time with that, they will periodically invent or rebrand badges, it is just a marketing strategy. In a statistical approach the best-selling properties are those with highest reviews at the lowest possible price. For a platform like Airbnb the most important thing is to sell, doesn't matter how. I've unintentionally earned this badge but with this occasion I'm somehow aware that I'm working only for my passion passion (I mean at a loss

)
Disagree! I am the most expensive in town, only 10% of my bookings are from Airbnb and I have the badge on every listing.
You don't have to disagree, @Debthecat

Even with a low turnover, I'm sure your properties are bringing the best ROI to THEM. The properties can be attractive in different ways and the markets are hugely different, also the reasons of the guests to travel.