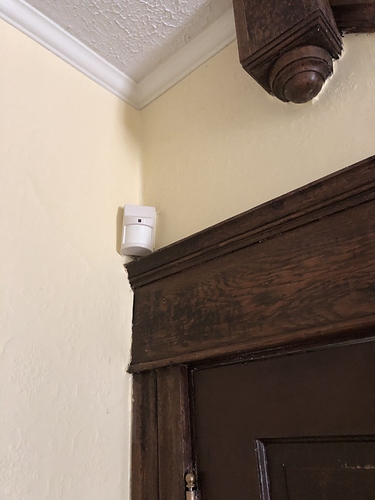 Yesterday afternoon I was taking a break from cleaning one of the AirBnBs and noticed something. I was sitting in the living room, eating lunch and watching HGTV, and suddenly I noticed the motion detector in the entry hall.
This house is an entire house AirBnB and it's the house my husband and I lived in after we got married. When we bought the house it had an ADT security system already in place with door alarms on all three entry doors and a motion detector in the front hall. The system was a hard wired system, installed sometime in the 1990s. We never had it monitored by ADT, though we did use the system from time to time. At some point we quit using it entirely, unplugged it, and removed the back up battery.
So back to yesterday—for the first time in a long time I noticed the motion detector in the hallway. It's not disclosed in our Airbnb listing description. I don't know if a motion detector would be considered a surveillance device or not, but it is inside the house, though it has not been functional for years.
I began to wonder if someone might mistake it for a camera. So today I had it removed. None of the AirBnB guests or Non-AirBnB guests have ever mentioned it or expressed any concerns about it. I don't know if that's because they knew what it was, or if it's because it just didn't bother them, or if they just didn't notice it, but whatever the case, I'm feeling like I dodged a bullet in having it removed.
What do y'all think? Was it an overreaction or a smart move to take it out? Even if it wouldn't be considered a surveillance device (and I'm not sure if it is or not), I was worried about some clueless guest mistaking it for a camera…