I don't see anyone has pictures on their listings. Is that just me? Thank you!
All is normal for me on both the website and the app. Which one are you on? If it's the website, have you cleared your cache lately?
EDIT: You are so right. The search pages look totally fine but if I go to a listing, there are no photos, just this, is this same that you're seeing? But, geez, I wish I had that much room on either side of the bed, lol.

And they're gone in my settings page too:

I just checked. You're right, all the pictures are gone. I just saw a generic drawing on the main page, all the listings have the same image.
Are they trying to root out bias in choosing listings now

Got a request for a booking and noticed that all the faces with the reviews for the guest and in my inbox are blacked out.
OK, now they're back.
Thank you all for checking!
Now I can't see anything on a listing page at all. I just get this message:

I imagine we're experiencing some kind of update. Hopefully not an update of taking all the photos away.
I was doing some maintenance in Airbnb& got a message "this site is unavailable due to a surge in traffic"
yes, it's down for me too.
"com.airbnb.services.exceptions.ServerSideTimeoutException: Total timeout 350 ms elapsed"
I had that cryptic message too with the disappearing rentals.
lol, are we all so cynical we aren't thinking "oh yay, an update!"
instead it's: dear God, don't let them break anything.
Same here… LOL…Hopefully not an update of taking all the photos away.
LOL… fascinating


Photos are back for me! And I'm pleased to say that the photos on my listing are the correct photos

I was suspicious that they could be mixed up.
This is what we had to agree to maybe a week ago or we couldn't get on our site.
I can't stand all their gibberish, I'll deal with it when I have to.
I didn't know about this, must've missed it somehow. Is that a message you get when logging in? Or did I miss an email? I guess I never log out so haven't logged in, maybe should try it now.
When I look at the TOS it says "Last Updated: February 10, 2022".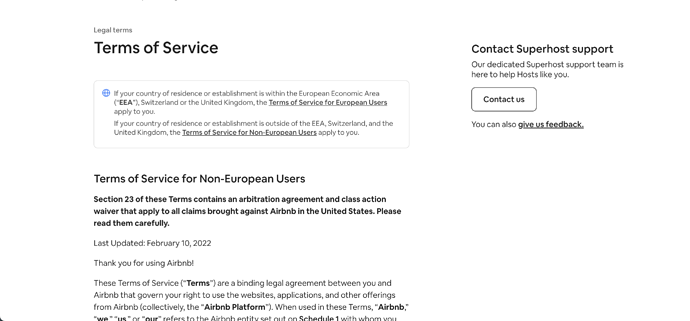 I never log out but one day when I went to look at my site, the Terms of Service, etc popped up, disagree or agree and I figured if you disagreed it was curtains.
On the CC site there's been a lot of discussion about this for awhile but I've not read much. People seem to be upset by the penalty hosts will have to pay for cancelling a reservation.
Yeah, this starts today. I'm going to read more.