Hi all,
hold on tight with this one.
this August we hosted a very unpleasant guest, presenting the features of a narcissistic pervert. This guest openly blackmailed us for a negative comment (this is written black & white in the conversation) if we didn't give him 300€, which we obviously refused. He created an entry in the resolution center, asking for 300€, saying the listing was not conform to the description, which we refused.
After he left, this person harassed us via SMS and the Airbnb messenger and we weren't able to block him after reporting him (I provided a video of the impossibility of blocking him to the Airbnb support, who fixed this and blocked him for me). The harassment was so horrible that my wife did some sort of burnout, now she can't watch our Airbnb account and is scared every time we have an Airbnb notification. She is 100% traumatized.
Today, a month and a half after, the Airbnb customer service contacted me asking me to pay the guest the 300€ , because in my listing I have written that "the sheets are provided" and that the guest expected to have several sets of sheets from reading this, and so the listing is not conform with reallity.
The guest says the fact he only had a single set of sheets created damages for him that are valued to 300€.
I tried to explain to the support that in French "les draps sont fournis" (the sheets are provided) doesn't mean that we provide several sets of sheets but they don't care.
Now the support team is analyzing the case for indemnizing the guest 300€ based on this.
If you have in your listing "sheets are provided" I wanted you to know that you may be asked 300€ of indemnization by the guest, with more aggressivity than understanding or help from the Airbnb customer service.
Here is an image proof of the conversation (in French, sorry) :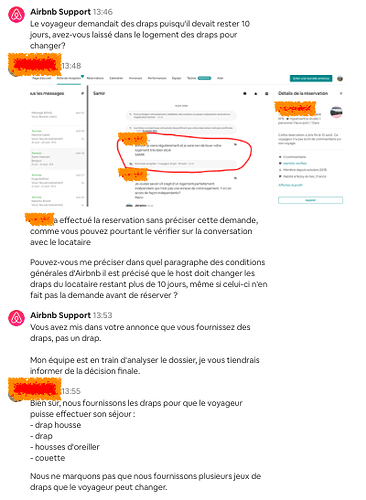 I wanted you to know that Airbnb not only did not ban a guest who wrote black on white a comment blackmail (the support told me this is a different issue which has been treated, indeed the comment was blocked but the guest still has his account), severely harasses a host over the phone and the Airbnb messenger, and that they will make you pay 300€ because they dont get that "sheets" doesn't mean "several sets of sheets" (but I am French, maybe it is understood differently in English, but my listing is in French and in French it is pretty clear).
Right now I feel at the lowest and am considering removing all my listings from Airbnb, I have the impression of working for a neurotic micro-manager and this is not what I am looking for.
Thank you for your time