Here is a link and my summary (the salient points for you might differ from mine):
Here are the excerpts for vacation rentals: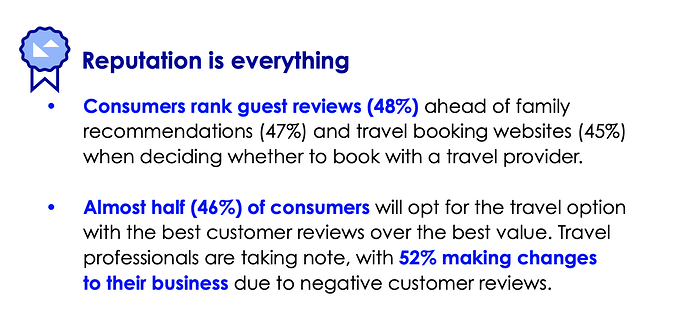 There's a lot more detail in the report – worth a look!
Findings:
Nearly half (46%) of people say travel is more important to them now than it was pre- pandemic.
a. They're putting their money where their mouth is: while 31% say their travel budget will be the same as it was last year, 43% are upping their budget for the coming year. The amount people travel is also increasing: 79% say they plan to take a leisure trip in the next year, up from 76% just a few months prior, with the average person saying they plan to take two leisure trips.]
b. What's most important when making travel decisions?
c. Change of scenery 49%
d. The physical and/or
mental health benefits 49%
e. Making up for lost time
with friends and family 46%
f. Having new experiences 43%
2. Travelers prefer to book with providers that align with their personal values.
a. 70% of people say they are more likely to choose travel options that are more inclusive, even if that comes at a higher cost.
b. 90% of consumers are looking for sustainable options
when traveling
Despite fewer barriers to travel, travelers continue to demand flexibility.
a. They are comfortable booking five months in advance on average, up from the four months reported in April 2022 research.
b. Last year we found that consumers valued full refunds and enhanced cleaning practices above all other travel considerations — even price.
c. Around half of consumers say they would never book non-refundable lodging (47%) or transportation (51%) domestically, even if it was discounted.
d. Even more would refuse non-refundable lodging (57%) and transportation (59%) when traveling internationally. T
The drastic drop in both international and business travel is temporary. As the world fully opens and companies adopt new workplace policies, the industry can expect a resurgence in both areas of travel in 2023.
a. In our research, only 8% of industry professionals say leisure travel is back to pre-pandemic levels.
b. But nearly two-thirds (63%) expect it to return within two years. International travel is likely to play a large role in closing that gap, particularly for regions most impacted by restrictions.
Travelers' need for extreme clean is waning,

Price sensitivity returns as inflation rises.
a. In the biggest change year-over -year, low pricing reappeared at the top of the list when booking all elements of a trip: 27% of people say it is what they value most when booking travel.
Travelers have yet to fully realize the benefit to travel loyalty programs.