I didn't have an option when requesting to get Airbnb involved of whether it was under the Host Guarantee or under the Security Deposit. Of course Airbnb chose the Host Guarantee which protected them and the Guest and screwed the Host.
Any suggestions for trying to get reimbursed for the damages?
I had a guest who, among many other things, allowed their dog to chew a hole in my comforter and flat sheet. Airbnb said that the Host Guarantee didn't cover it. I am next going to try to get it from his deposit. What do I need to do to up my chances? The Guest didn't deny the damage in his decline to pay, just said "this lady is trying to extort me". This guy is also a host but hasn't hosted in about a year (according to reviews) and only got 3 great reviews from guests after canceling on his first guest. He had 5 great and 1 good review from hosts. The good one was the recent one, the great ones were a year ago. I could describe the whole thing but suffice to say that he did not read the House Rules at all and could not control his dogs and they escaped him inside the house as well as outside where one tried to attack my horses. I have all outside behavior on camera, including when the dogs were intentionally released and when they escaped. Of course less than an hour after Airbnb notified us he wouldn't have to pay the requested $90 for the damages he posted my review.
This was what Airbnb quotes when they declined my request for payment for damages by the Guest.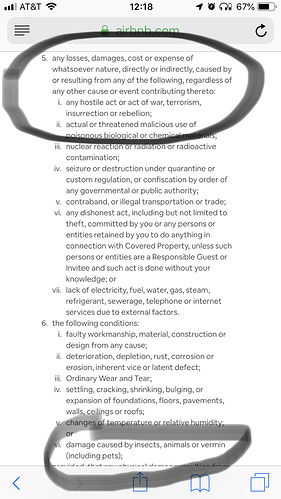 This is what I think should apply: