I'm surprised no one has started talking about this - anyone else get notice of it?
I just signed on for it, and my prices didn't vary very much from what I had anyway. We'll see!
I use it and it pretty much mirrors what I used to do manually so I'm fine with it.
My minimum is always acceptably priced, however, because I'm not interested in renting unless I can hit a certain nightly rate. I have a sneaking suspicion that opting into Smart Pricing might also help with SEO/rankings but that's just a hunch.
I thought about it, but does it allow you the option to opt out at any time? Last year for instance, there was an event that came on rather suddenly and pushed prices for short term rentals WAY up (the Travers Race at Saratoga). I didn't make out like a bandit, but I did do better than I normally would have! I would hate to lose out on that kind of thing.
You can still set prices manually
Thanks for that information
Oh yeah, for sure. I go through and adjust manually as appropriate. And adjust UP those days I really would rather have off.
I checked out the Smart Pricing estimates for July and August (high season here) and so far it's definitely underestimating demand for my particular property (suggesting prices that experience tells me are unnecessarily low to achieve 100% occupancy). I guess it works in some markets better than others.
@Lucy_R
As far as can can tell, the Smart Pricing system won't use prices lower (or higher) than the limits you set yourself. I have set it to $120 - $300
@jaquo
Yes, you can set a minimum price, but you can't control how often it uses that price. I know some days will be hard to book (for me tues & weds), so price them accordingly, but Smart Pricing uses lower prices than I would for lots of days that typically book for higher prices (other midweek days).
I didn't think it was possible for the prices to go below whatever lower limit you set. They don't seem to for me. I find that most dates are set to the lower price and then I adjust the others manually. It will be interesting to see how it fluctuates over time.
They won't go below the lower limit you set. The situation I'm trying to explain is where Smart Pricing suggests prices that are above my minimum, but still lower than I know is necessary - which it sounds like you're experiencing too.
Right now I'm under contract with AirBnB to use Smart Pricing for July and August (high season here). The prices Smart Pricing has listed for those months obviously don't dip below the minimum i established, but they are lower than the prices I charged for May and June (which are already almost fully booked). That just leads me not to trust Smart Pricing - I think if adopted widely it will lead to widespread price erosion - great for travelers, but terrible for hosts.
I set Smart Pricing's minimum to above my lower limit when summer comes around. Then I manually adjust down as needed. I also keep it to only a 3 month advance since I'm nervous my pictures, terms, or whatever might change.
As far as I know, it only works four months into the future anyway so I guess that Airbnb are thinking the same way as you are @JSquared
So far I think the Smart pricing sucks. It has suggested that I start my booking for my 2br/2bath place for $42 a night (I charge $45 for cleaning fee), where I live in a resort that the average cost of the 2br units like mine are going for $170-$229 a night. This is for an "Entire Place" listing. I mean seriously? What the???
That's Pricing Tips, not Smart Pricing. Confusing? Yep.
Yes, I think some people here are talking about Pricing Tips. I don't have any problem at all with Smart Pricing.
@JSquared @jaquo @RNeundorf 'm pretty sure we're all talking about the same thing. When you set up Smart Pricing it makes suggestions for your min and max price. In my case they were equally ridiculous.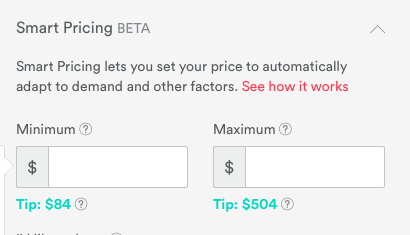 True but it takes only seconds to disregard the tips. Hosts know best what prices they can easily get. I think the lower suggestion for me was around $50. I set the lower limit to more than twice that. I know the value of my place better than they do and it's only a suggestion, after all. Just add whatever price is as low as you want to go.
Of course it only takes seconds to disregard the tips, but it takes much longer to review and edit edit up the majority of its "smart" prices, which I know are unnecessarily low.
I'm glad to hear that you feel that this tool might save you time and/or improve your revenues, but when other hosts (me included) say it doesn't work for us, that's precisely what we mean. It doesn't mean we don't understand it - it just means these algorithms work better for some hosts than others.