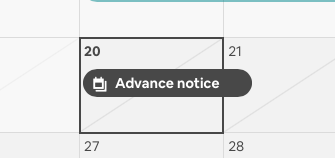 You have your calendar set so that guests cannot book less than 24 hours in advance. When the time threshold has passed, you will see that gray bar indicating that time is now blocked.
My listing guests can book up to 6PM and I saw that, though maybe I saw that after 6PM.
One thing I'd note is that the night was blocked, so really "advance notice" shouldn't really apply to a night I've blocked.