Hi Everyone,
I'm a newer host who has been lurking and learning on the forum for awhile. I officially registered as a member a few days ago… I've chimed in on a couple of topics - I hope I didn't inadvertently break any unwritten 'house rules' by doing so without introducing myself first… Due to the lurking I weirdly feel as if I know some of you already…

A little bit about me - I live in Seattle. I have a mother-in-law apartment in my basement that I started renting on Air back in September as a break from doing long-term rentals due to my last tenant being somewhat inconsiderate/problematic… Enjoying it so far and still learning as I go.
I'm writing on the forum as I got 2 emails today that look to me like a hoax/scam. The email content and subject lines looked like they originated from AirBnB but there was no history of the communication when I checked my AirBnB inbox.
The first email looked like it was standard booking request for 4 nights however the sender was 'Premium Subscription (Airbnb)'. There was an immediate follow-up message offering me premium services and high placement in listing searches etc with a message to respond directly to the email for more information…
I did a google search and it sounds like if you reply you get a response with a link to login with your AirBnB credentials but it is not the standard Air site…
Anyway - just thought I would put this out there in the event anyone has seen this…
Here is a screen shot (assuming I upload this correctly) of the content of the 2nd message.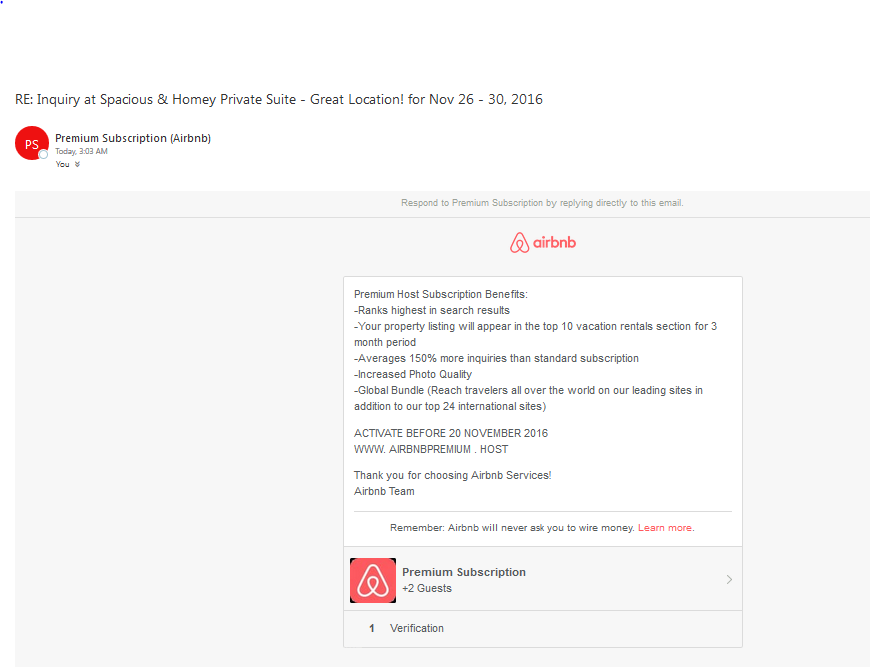 Thanks!