This is a private suite in a shared home. It has a bedroom, living room, bathroom and kitchenette.
TLDR: Guest nearly burns the house down. I added a laminated rule sheet with some tips about not burning the house down. In the future I look forward to having a house that is not burnt up.
Guests aren't allowed to use my kitchen but I wanted to try and provide something so I designed and built a kitchenette. It works good. I've never had a problem with other guests.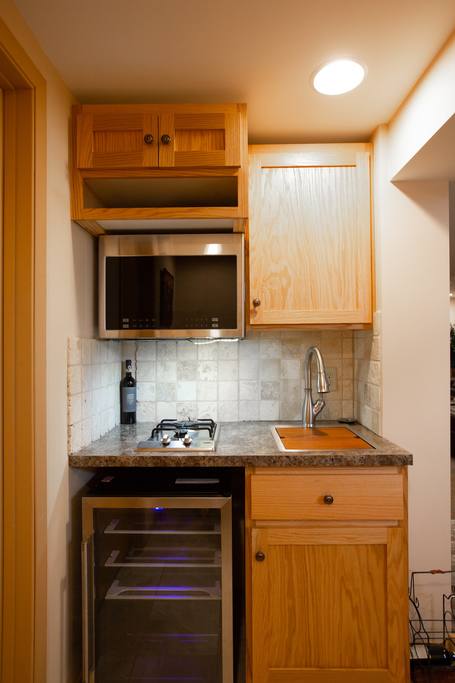 Fast forward to yesterday. I had a man from a developing foreign country check-in. Lets call him Chef. Chef asked me if I had any larger pots. I thought that was weird because there's already a large sauce pan down there. He's also only here for 2 days and its just him. I showed him what I have an he grabbed a 3 gallon soup pot. Now I'm really intrigued. He said he's making rice. A few minutes later I hear some sizzling and smell smoke.
I go over there and besides the soup pot he's cracked about a dozen eggs in a frying pan with about 200ml of oil and its smoking. I ask him if he can use the vent fan (built into microwave and vents outside). He's on the phone and isn't really listening or paying attention so he stops talking for a second and asks me to repeat myself. I do and he said "yeah but some dust came out when I turned it on so I'll just use it when I'm done." I'm trying not to push it because he's obviously engaged in his phone call and doesn't want me there. I told him "ok" and left it at that just trusting him to use good judgement and thinking the eggs would be done probably with 5 min and that would be it.
15 minutes later, I hear A LOT more sizzling and crackling and see a lot more smoke. Now I'm very concerned and annoyed. I go over there again and right as I come around the corner, the fire alarm starts sounding and flashing.
He's got about 1kg of steaks in a frying pan with about 500ml of oil (swimming in it). There's a 1 liter bottle of oil next to him half empty. He's on the phone still, even with the fire alarm going off. I ask him if he can shut off the heat and he doesn't say anything. I go to cancel the alarm and when I come back, his steaks are still sizzling on the stove! So I ask him again to shut the heat off. I start opening up windows, turning on fans, opening doors etc.
It took a few hours to clear the smoke out of the house. It was really a dangerous situation I feel like because he had that much oil in the pan splattering everywhere. I later found out that most cooking is done outdoors in his country.
I decided something had to be done. I got a gel type fire extinguisher. Then I made some rules, printed and laminated this page. It will be taped to the knobs on that cooktop. I realize its rather straight forward but I guess I don't see fire as a laughing matter and I'm hoping my good guests will understand that too. This is taped to the knobs on the cooktop with tamper evident seal tape. Do you think it'll work on the kitchen situation or is something else necessary?
BY REMOVING THIS SEAL

You acknowledge the following:

Don't set off the smoke detectors.

The fire alarm is remotely monitored. If triggered, the Fire Department will automatically respond. They will bill you a $250 service charge if they are dispatched regardless of the situation. They give no exceptions for any reason. You can avoid this by:

Using the microwave vent fan. It blows the smoke outside
Turning down the heat if there is excess smoke or grease splattering
Use the minimum amount of oil and heat needed
Never leave the microwave or stove unattended while cooking
Use the fire extinguisher if a fire gets out of control

Use the vent fan.

This home is equipped with a central air system. This means any cooking smells will circulate through every room in the house. Other people live here and they might ask you to share if your food smells really good! Please turn on the vent fan whenever you have a stove top burner on for anything. Even just water. Don't wait until your finished cooking to turn on the fan, turn it on before you start.

Clean up.

Please leave the kitchen in the same condition you found it. The best way I've found to do that is to clean up right after your finished so that you don't feel rushed at checkout time.

I don't charge a cleaning fee and I keep the nightly rate very reasonable. This is only possible if my guests are considerate. If you'd rather that I clean up, I can do that and send you a cleaning fee bill through the Airbnb resolution center. The fee for cleaning up the kitchen is $50.
I also tried to add some notes to the description that clarify this is a small kitchenette and probably not good for elaborate meals.