Thanks @Christian; I guess 40+ years of being a wordsmith has been worth it.
I am piling on the @KenH train; he knows how to write succinct reviews.
I realize this is a tangent (what would this forum be w/o tangents) but I've discovered these 100% cotton bath mats at (of all places) IKEA.
Rather than the fuzzy carpet like matt, these are like thicker towels, and get laundered with the linens between each guest. I buy several and swap them out. I roll them up and place them in front of the shower, so the guest knows that they are fresh and have not been used by prior guests.
Should there be an unfortunate situation as occurred here, at $7.99 US, its not a big loss.
Wow! Thanks @HH_AZ!! Those bath mats are almost enough to get me to drive 100+ miles and brave the innards of an Ikea store! Especially if I can get them in anything but white!
Unfortunately
they don't seem available for online order
The one I referenced, FÄLAREN, is only white or grey
BUT there are plenty of other matts (some not cotton) in many colors.
https://www.ikea.com/us/en/catalog/categories/departments/bathroom/20519/#
The one that best meets my aesthetic (but not offered in white) is Blanksjon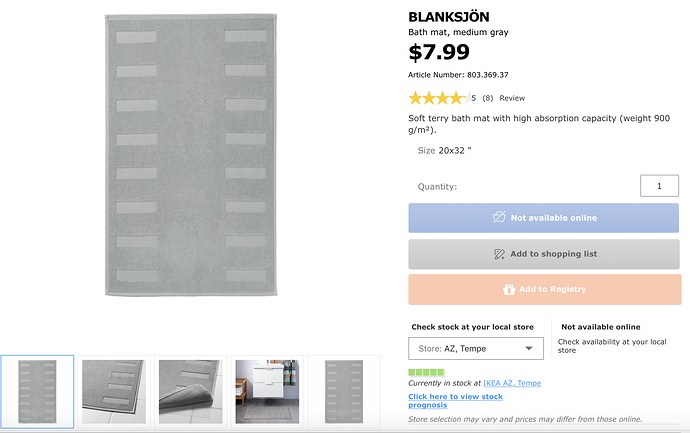 That is my favorite as well. I only have two and need to get another one or two. Before Airbnb I did little shopping at IKEA. Their stuff isn't so much to my taste for my home. But once I started Airbnb I find myself going whenever I see one on my out or town trips. I've heard they are going away from expanding their big store model and moving towards more online presence. This exemplified by the recent decision not to add another Glendale store in your area. Since El Paso will never have an IKEA I'm thrilled with this new strategy.
IKEA has some quirks so I too do not use much of their stuff, however there are some items that I've curated in my visits. I will put together a list and post but to a more On-Topic forum.
If coming from Ikea, they should be a 100 % cotton and easy enough to dye in your preferred color.
I like these!! They are in stock at my local IKEA, but not sure if I want to make the trip/time investement. I am a terrible IKEA shopper…I end up spending hours (including always eating in the cafe) there and don't buy much. I wish I had the willpower to just go in, grab the bath mats and go, but I know myself too well. I've been using something similar (but without as much of a pattern) that I got here at our local Fred Meyer (Kroger owned), but they seem to always be out of them in white. I think I have 2, but would like to buy 2 more. They were about $14.99 but I think I got them on sale for close to $7.99.
Is there a reason why you haven't, through the Airbnb website, asked the guest to pay for the ripped sheet?
I don't agree with others who say destruction of new sheets is the "cost of doing business".
I would not ask to be paid for a sheet, I buy Amazon Basics and its like $20 for the set. Not worth the revenge review FOR ME, my listing is in the 250 a night range so I would chalk it up to cost of business. I would by another set, then I would have extra fitted and pillowcases, win win.
RR
What time of year do they run that sale?
Cheaper sheets are generally microfiber. Many guests will be fine with them, but some will find them off putting. They will feel different compared to cotton sheets at hotels. For a little more you can get 300-400 TC cotton sheets at kohl's or target.
So far so good, no complaints I have tried them. I have also replace some already and love love love the price. I need easy, I want to be able to go online and 2 days later its at my door! I live in the mountains, the nearest Target is 1.5 hour round trip I am just not going to do that. I could pay more at Amazon but I do not see why, these sheets are fine IMO
RR
Oh, thanks. No offense but microfiber is a no for me.
But I have gotten various acceptable sets for a little more than $20 on Amazon/ebay and at Costco.
I bought some of those Amazon Basics microfiber sheets, and they are the MOST god awful things I have ever felt in my life. Feels like a pair of polyester pants, except super super thin. I keep them for emergency use only, but would never put them on our beds if I didn't need to. The only thing I can say in their favor is that they don't wrinkle at all.
Sure, at your price point you can afford to give away sheets to careless guests.
My suite is at low season and $49/night. A new set runs $80. One of my draws is good quality linens. I utterly hate microfiber sheets so don't provide them to guests.
A one nighter did this to my nice Pima cotton sheets this weekend, top and fitted sheet. I have requested payment. I could care less if they retaliate with a bad review.
I have not had any complaints, another bonus is they dry fast on the line:)
RR
That's too much for a $49 room, YOU don't have to like the sheets as long as your guest do!
RR
Agree with RRR, even if you want to go cotton, you should be able to find sheets in the $30-$40 range.
Example,
ALso check out places like TJMax, Homegoods, ect…