Hey everyone

Last topic I started about pricing, @jaquo recommended I figure out all my expenses etc when setting my nightly rate.
I realised I haven't been taking full advantage of a wonderful spreadsheet I got off Learn AirBnB. I love Excel, so I've managed to almost fully customise their spreadsheet, but the bones of it are very good just on their own…
Here are some screenshots demonstrating what a useful tool it has been for me…It's main purpose I think was for someone setting up a new AirBnB to figure out if the returns are worth it, but it's great for established hosts as well - it just won't tell you your rate of return.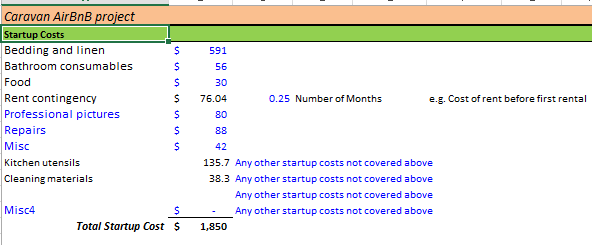 This shows start up costs.

Monthly expenses (all customizable).