I stayed here in July. He has bookings.
Once you put in a date range I'm on the first page of results. If you don't, I don't show up for several pages. Most similar sized places (1 BR apt) seem to also lack bookings for the upcoming months. So maybe it's just the market as a whole…
They're one of the STRs that's getting screwed by the new city ordinance intended to crack down on party houses. Because it's not owner occupied (they live next door) they'll need a special permit to keep renting.
I'll try to be patient

I doubt they will have trouble getting a permit. They live "next door" but it's on the property. They in essence live in the guest house. I'd imagine they could also easily flip it. Move to the big house, and rent out the guest house as it probably has fewer than 3 bedrooms. In any case although it's perfectly suited for parties they don't allow them. There is a limit of 10 people and they have cameras covering the entire perimeter of the outside. I don't know what Newton will require for the special permits but having 70+ problem free stays must also be to their advantage.
If your PM to MassHost is about how to write a rule for a promotion, send it to me, too. I can't figure it out.
If it's about something else, never mind.
What exactly do you mean here. We're you not able to raise them again, even before or after you signed up for the promotion?
The nightly price was originally 109. Weeks ago I had lowered it for those dates to 99. I switched the price BACK to 109 and then used the promotion. It took the percentage off of the 109 and didn't seem to care it had been 99 beforehand.
As an update, I noticed in the last few days that the option to add promotions was no longer available. I contacted Airbnb support multiple times and basically, they turned it off. So it's not a feature you can always use. Here's what they said:
"I just reached out to my supervisor and was advised that what you were seeing were offered by Airbnb for low demand times and cannot be requested. I have included links below on how to set custom prices for specific nights, weeks, months, holidays and weekends. You may set your discounts there."
Of course, we could ALWAYS lower the price, but then we don't get the additional marketing benefits, nor does it show potential guests that they're getting a "deal."
I looked at a listing that was promoted to me in an email. It said 51% off. Wowzer. So I looked and sure enough the $44 a night was now $26. But not for the nights I wanted or any other ones I checked. And with cleaning fee and taxes is was $71 a night. I saw another listing with no promotion and it was $58 a night. I'm sure everyone is different but I find those bait and switch prices to be very annoying and I avoid booking those hosts on principle. It's probably a good way to snag a new, naive guest though.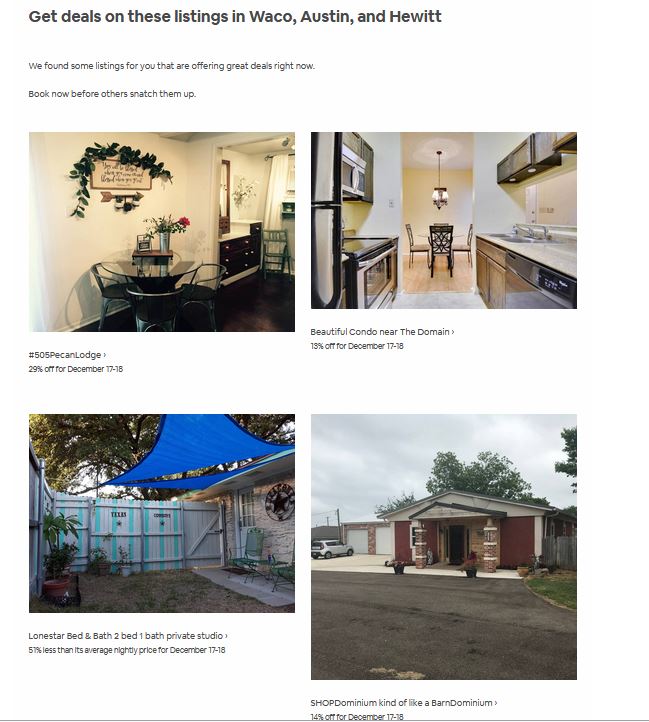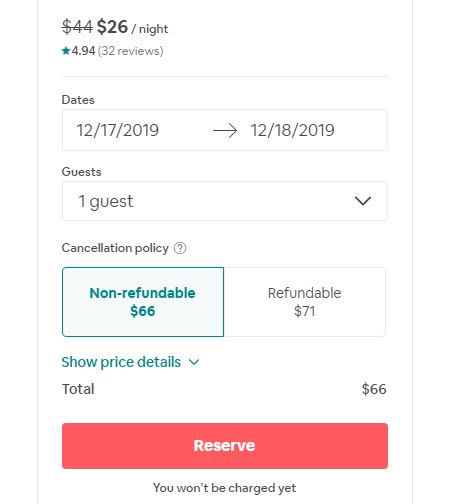 I won't argue with you that Airbnb's nightly pricing is misleading, as it hides the taxes and cleaning fees. But, if your normal rate is X and you reduce it to something less than X, it still is a discount from the regular rate.
Yeah, if you actually reduce it. What is often advocated here it to raise the price, then take the discount promotion.
In any case, my thinking is that it's not going to get you a lot more business and the bookings may even be less desirable guests, so don't get too frustrated by the fact that Airbnb won't let you control it.
I'd never gotten these promotional emails before and I can tell you I won't be wasting my time looking at any more of them. I can find a better host, better listing, and better price with just a little more work on my part.
A couple months ago, there was a 3-bedroom detached house whole-place listing near me with a nightly price of $10. It was the end of the slow season, but I still couldn't believe it, so I started checking dates. There were only about 5 weeks open on the calendar. The lowest price for 1 guest for any available date was $89 (before taxes, cleaning fee, and Airbnb's commission). Weekends were higher and additional guests were extra. I tried a 7-day bookings and 30-day bookings and they were $76 and $67.
I assume they did something with rules that made the price of future dates show up, but kept guest from being able to book those dates, but honestly, I have no idea. It just made me say "WTF".
As a guest, I wouldn't book with that host just because of the deception.
We've discussed this here previously and the consensus aligns with your perception of it. Apparently you only have to have one day on the calendar with that price; it doesn't ever have to actually be available. But there will always be those people who are suckered by it.
I assume people do that because they think low price weighs more in the search algorithm. I guess I could see it if Airbnb had a way to rank search results by price.