Hello Everyone!
I'm wondering if anyone has experience with Padlifter. What are your conclusions - a good value? Or no?
Yes, and honestly, their website and their verbiage is SO BUSY - it doesn't appeal to me at all. Their example of description writing didn't impress me either. However, they also say I'm not charging enough (and I keep raising my prices) so I may let them handle that part for me - cause that totally stresses me out.
I looked at the Youtube video. After watching it, I still didn't understand what they actually do. Does anyone happen to know?
PS: I see the main site has more information.
BTW, how does one delete these posts? I don't see a way.
I was curious and submitted for a free listing reviews and I was also told i don't charge enough, which is completely inaccurate, we charge too much based on the comps. They also wanted my summary and description to be more thorough etc. Granted it probably could be, but it's already pretty long and unfortunately we know potential guest don't read, so I'm not giving them $$$ to re-write my listing.
Of course they're going to tickle your ego by saying that you aren't changing enough…
Thanks for the feedback. They sound like an underwhelming service. I think I'd be prepared to pay for a good advertising service. Anything else doesn't make much sense, IMO. Though possibly a good pricing service could be useful, in situations where there are significant predicable fluctuations in demand. But I have no experience with pricing services.
Too expensive.
I had looked for airspruce for rewriting my listing.
They are company that take care of the price of your listing.
I'm a professional advertising copywriter and quite frankly I believe most hosts are perfectly capable of writing their own listing. After all, you know your place best!
Hi all,
My name is Evian and I am the Founder & CEO of Padlifter.
I may be a little biased

but please allow me to share a few thoughts. You are entirely free to make of this what you wish…
Our Costs
Our costs may seem "expensive" but people often forget the amount of hours of research that goes into each and every one of our reports and guidebooks.
The average Airbnb host makes $7,350 USD per year.
Every one of Padlifter's services cost less than 3% of an average host's yearly Airbnb income. And on average, most hosts cover the costs of our services with no more than a 2-night stay in their place.
There are alternatives, and yes, in many cases, they are cheaper. But for Airbnb hosts that want the certainty of working with experienced professionals that get results, then it's up to them whether or not they see the value in paying a little bit more to achieve more bookings at a higher price for each of those bookings. As our previous customers would testify, this is a benefit of having worked with Padlifter.
What We actually Do
I apologize that it wasn't clear what we do from watching out explainer video. This was created some time last year and needs updating, which is happening shortly.
To clarify, we provide the following services:
Listing Optimization: We crate enticing and engaging Airbnb listings that illuminate the best features of your space. Click here to see an example.

Price Optimization: We research market prices and comparable listings in your area to recommend optimal rental prices that ensure you hit your pricing 'sweet spot' and maximize your earning potential. Click here to see an example.

Local Guidebooks: We develop an Airbnb guidebook that shows off a host's knowledge of the local area, showcases the best of their neighborhood, and helps their listing and local neighborhood stand out from the crowd. Click here to see an example.
Examples of Description Writing
Many hosts do not think through the end-to-end booking process from the perspective of a prospective guest. The content of the descriptions is often one of the last considerations, and needs to be simple and easy to digest. It may seem counter-intuitive to overview your place's key selling points in a clinical and 'to-the-point' fashion, but experience has demonstrated that these fit best with the standard guest booking process and ensure your place is the one they select.
Below is a typical guest booking process. Obviously not everyone follows this exact process, but more or less captures where an effective listing description fits into the big scheme of things: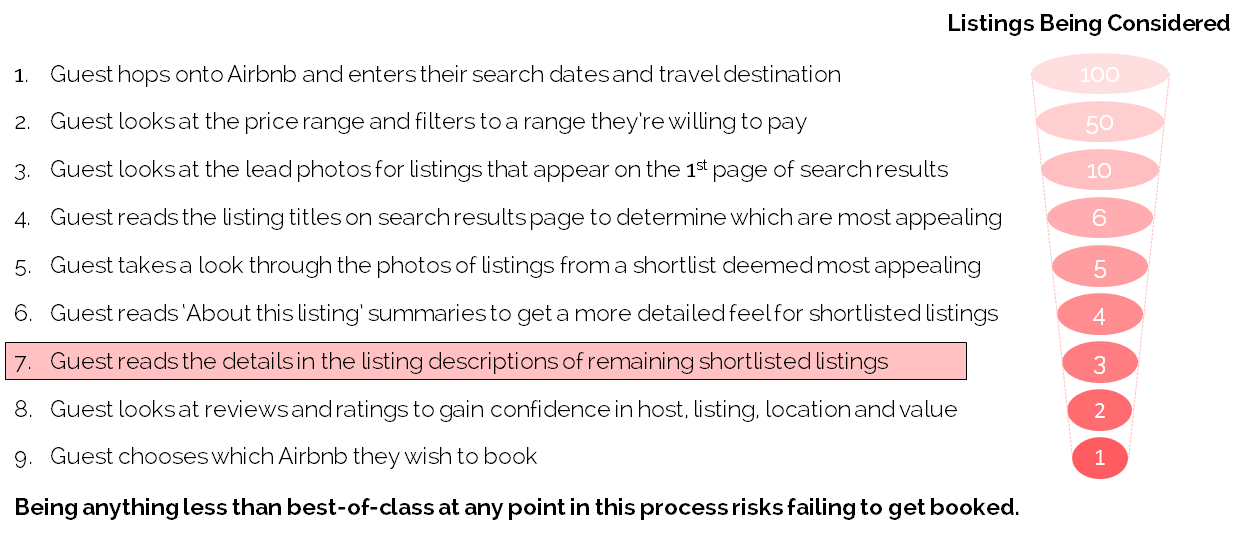 We also have a rigorous input gathering process that elicits many key selling points that hosts often forget or neglect to mention. Despite YOU being most familiar with your place, there may be instances where you simply forget to mention or include something that helps differentiate your listing.
These listing descriptions get more bookings and experience has validated that.
Our Pricing Recommendations
When we provide our free Airbnb reviews of your listing, we assess your listing against a number of factors. One of these is how aligned your pricing is with comparable listings in your local area.
We NEVER over-state what the search results tell us - in fact, we often praise prospective customers and tell them we are likely unable to improve on the great job they're already doing on the pricing front.
If we are recommending changes to your pricing, it is because we are seeing mis-alignment between what you currently charge and what your competition (comparable listings in the same location) are charging.
Over and under-charging on Airbnb both represent missed opportunities. We just call that out when we see it.
In Summary
Many customers ask us the question - "Why can't we do this ourselves?" We always answer - you can. In fact, we give away a lot of our 'secret sauce' in our free hosting tips section of our website.
We also like to remind prospective customers however that true success on Airbnb is the perfect marriage of art meets science. Whilst there is a clear methodology to follow with all this stuff, we bring our years of experience in having seen what does and does not work to offer a service that simply achieves results time and time again.
For many people on this forum, you too will be experienced Airbnb hosts - often equally qualified to improve your own listings as you rightfully point out.
In some instances, less experienced hosts need genuine help getting to that point. In other circumstances, some customers just want to outsource the headache to experts with experience in best practice.
Either way, we stand by the service we provide, and as they say the proof is in the pudding.
I thank you for this feedback. We will do our best to address many of the issues you raise above as we continually strive to make new and existing hosts even more successful on Airbnb.
Hi @azreala,
I'm sorry to hear that you were disappointed with what our review told you.
If you want to provide me with your listing URL I can take another look for you and make sure that it's as accurate as possible.
I want to emphasize that we simply indicate what the Airbnb search results tell us. It shows us what you charge. It shows us what your competitors charge. It shows us the average market price. And it shows us the cost distribution across the market.
We simply get back to you on where your place sits along that spectrum of comparable listings. If we have advised that it is below market rates that is because compared to your competition, you are charging less than they are for a comparable listing.
Both over-charging and under-charging represent missed opportunities on Airbnb and we simply want to inform hosts of where there's money being left on the table in terms of missed opportunities.
Again, I am sorry that you were disappointed with the service and I'd be happy to take another look for you.
I tend to agree with konacoconutz, but there are also some very talented peeps on fiverr that can either just review your listing or completely rewrite it at a very reasonable cost. If anyone wants a link to someone on fiverr that I trust completely, just let me know and I'll send via private message. Sometimes it's good to have an objective, critical eye on things.
No offense, but I don't like fivver, upwork or similar because these companies have forced down the value of our creative professional services in recent years. It's usually beginners in the profession who are willing to take anything just to have a job. I was advised not to do it as a beginner and I don't do it now that I'm on the senior level. I don't believe in devaluing myself–either as a creative professional–or as a host.
No offense taken at all! I have to completely agree with you and that is why I think it's so important for those with qualifications to make sure to have "tip me" gig add-on, as I for one, am willing to pay more than the usual gig add-ons if the work presented is on the up and up. I do agree with your summation overall.
Hi All! I really enjoy making people's listings as perfect as they can be. I have experience as an airbnb employee, host, guest, and airbnb property manager. If you put your airbnb listing url on this forum or send to me personally, I'll look at it for free. I've actually developed a 28-point system through my work as an airbnb property manager that I use to evaluate and fix listings and profiles. You can also email me at danielrusteen [at] gmail [dot] com
By the way, I now work at Guesthop.com - feel free to check me out there!
Is it guesthop or optimizemyairbnb

You are missing a plural possessive apostrophe.

Should be
Hosts' listings
You could also use a hyphen here as it is a compound modifier, although the sentence structure with all the adjectives piling up is proving a bit awkward.
haha, thanks! Luckily, I don't write in complete sentences with my optimizations!