Airbnb has always been charging a very small fee to hosts for every booking received (only 3%).
We found out that the company is now testing a 4 to 5 times increase (12/15%) for bookings coming from ads sponsored on Google. The controversial point is that Airbnb has always been running ads on Google, but only now decided to start charging hosts an extra amount claiming that the extra amount will help to bring in more users.
Here's a report we wrote explaining in details the situation.
This seems to still be a test (since not every host is affected), but could be extended to everybody in the future, potentially affecting in a consistent way the revenues generated from hosting on Airbnb.
For example, on an average $400 booking, the new host fees could end up almost doubling!
You can check if you've been included in the test if you see the following box in your Airbnb settings.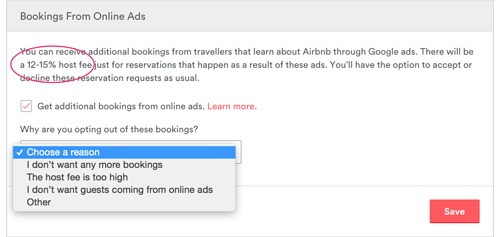 Looking forwards to hearing your comments!