Got an email from Air today saying that they will start introducing a new feature – City Hosts.
Where I'm from there are amazing mountain bike trails, I thought about hosting a day trip up the mountains

Curious hosts, what would you offer as an extra service?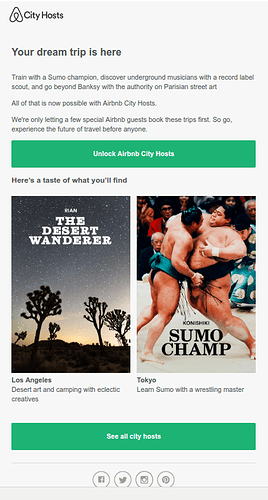 Full FAQs:
General questions
What is Airbnb City Hosts?
Airbnb City Hosts are multi-day trips curated by local, knowledgeable hosts. We believe that the best way to get to know a place is through its people, and Airbnb City Hosts gives guests access to some of the most interesting and welcoming people everywhere. Each trip includes two or more hosted experiences, where you'll have the opportunity to meet a small number of other Airbnb City Hosts guests from around the world. During your trip, you'll stay in some of the best Airbnb homes out there.
How do I know if a city host is right for me?
Each city host includes in-depth descriptions of all the experiences included in their trip. Tap on an individual experience to read more about it and get details on what's included.
How do I book a Trip?
Pick a city host
Pick a home host
Book and customize on the go
What's included in a Trip?
Every Trip includes:
Two or more hosted experiences
A stay in an Airbnb home
Access to a special trip app
Each Airbnb city host plans a minimum of two experiences for you. The experiences may include record shopping with a musician, meditative hiking, brunching on the beach, spending a night out in costume, savoring foods from the finest chefs, and many more!
You'll also choose an Airbnb home to stay in with its very own home host (the price of each home varies).
In addition to the two experiences and your home, you're also provided with a special trip app, which gives you real-time suggestions for many other activities you can add to your itinerary during your stay. These range from other hosted experiences to restaurant recommendations.
To see the full list of what's included for an individual trip, select the trip and tap each experience to get a detailed description, including the price of the trip.
What can I expect from the host of my trip?
City hosts have planned a number of experiences for you based on the type of activities and places that they know and love. They will act as your main point of contact in the city.
They have given us many more suggestions on how to spend your free time. These suggestions will live in your trip app. At any point, you can ask these hosts about anything from the easiest areas to find parking to the best coffee shops.
How are the start dates for the trips selected?
Start dates are based on each host's availability to host experiences. There are also some exciting experiences that may not happen on a regular basis, like concerts or special events.
What is the app and how should I use it?
The app is meant to be your compass as you navigate the city. With it you'll be able to follow your itinerary, access basic information about your home, and even customize your trip. It'll have a curated list of recommendations from your city host and hosts from the wider Airbnb community. These could be local sights, streets, and even restaurants. Every recommendation has insider tips on when to go and why. If any of these catch your eye, you can add them to your itinerary.
There will also be a list of additional experiences you may add, organized by other city hosts. We might even suggest some experiences based on your interests and location. These could range from concerts, private dinners, to secret events! You can easily book these through the app and add them to your itinerary.
How do I book additional experiences?
The trip app that you'll download offers real-time suggestions for extra activities to add during your stay. Some of these activities may be restaurants to try or parks to explore. There will also be the opportunity to add more experiences provided by other local hosts. Within the trip app, you will have the ability to find these experiences, purchase them and add them to your itinerary.
Choosing a Home
What type of home will I be staying in during my Trip?
The homes and hosts available for Airbnb City Hosts have hosted at least five separate reservations on Airbnb and are Verified. They also have an average rating of at least 4.5 stars, basic amenities like toiletries and WiFi. These home hosts are excited to help you live in their city.
What does the room type of a home mean?
Hosts on Airbnb offer a wide variety of spaces, and with Airbnb City Hosts, you can either stay in a private room or an entire home. Here are the differences between the room types:
Entire homes/apartments: Entire homes/apartments are best if you're seeking a home with complete privacy. With an entire home/apartment, you'll have the whole space to yourself.
Private rooms: Private rooms are great for when you prefer a little privacy, but still value a local connection. When you book a private room, you'll have a bedroom to yourself, but will share some spaces with others.
Learn more about the different room types.
Why is there a minimum night stay?
Trips have a minimum night stay to give hosts the opportunity to provide meaningful experiences for you, while also allowing you enough time to arrive/depart the city and explore on your own. Please view individual trips to determine their minimum night requirement.
When can I check into my home?
You can find the check-in time for your listing within the app. If there aren't any times listed, check-in is at 3:00pm local time and checkout is at Noon local time. We strongly suggest you coordinate check-in time with your host before arrival.
Trip Requirements
Why do you ask if I'm 21 years old or older?
Some trips include experiences that involve drinking alcohol, which is prohibited for anyone under the age of 21 in the United States. If your trip has any events where alcohol is served, we are unable make any exceptions to this age policy.
What are the phone requirements and why are they necessary?
To take part on a trip through Airbnb City Hosts, you'll need a working iPhone or Android phone that has a data plan associated with it. You'll only be able to access your real-time trip information through the app, which is currently available on iOS and Android devices. We support iOS8 and Android v16 Jelly Bean or higher.
If you're traveling internationally, we encourage you to reach out to your mobile provider to receive data internationally or to purchase a SIM card locally.
What is Verified ID?
We created the Verified ID process to help build trust in our community and help give your hosts more information about who's staying with them.
Verified ID connects your Airbnb profile with other information about you. As part of Verified ID, you might be asked to:
Take a photo or upload an image of your government-issued ID, such as your driver's license or passport. Depending on where you live, you may have the option of answering a few questions about yourself instead.
Connect another online profile to your Airbnb account, such as a Facebook, Google, or LinkedIn account.
Upload an Airbnb profile photo and provide a phone number and email address.
Visit airbnb.com/verify to get started at any time.
You and any guest travelling with you will need to complete the Verified ID process within 7 days of making your reservation or it will be canceled with a full refund, as described in the Trip Hosts' cancellation policy.
Payment
What currencies/countries do you support?
While all prices will appear in USD, you may pay with any currency allowed by your country and payment method. If you pay with a currency other than USD, your payment will include a 3% conversion fee. Learn more about paying with other currencies.
How do I use a coupon or travel credit?
At the moment, we are unable to accept Airbnb travel credit or coupons as payment.
What happens after I pay?
After you pay, you'll receive a confirmation email highlighting the details of your trip and the home you'll be staying in. You'll receive a link to your app, which will give you a detailed itinerary and offer other suggestions to add on top of your already purchased experiences. Once you've downloaded the app, you'll be required to complete the Verified ID process.
Before or during a trip
When and how can I contact my hosts?
You may contact your city and home hosts after you have booked your reservation. To contact them, use the phone numbers or email addresses provided in your confirmation email. Once you download the app, you have the ability message your hosts through its messaging feature.
How do I know what is included in an experience?
The inclusion of items such as, transport and food and drink will vary by host. Review the descriptions for each experience to find out what will be included.
Trip issues
What if the weather affects my trip?
Hosts will make every effort to continue with experiences despite weather issues. But, if extreme weather creates an unsafe or uncomfortable environment for guests, you'll either have the opportunity to make a change to the experience or receive a refund. If extreme weather impacts the experiences on your trip more broadly, the City Hosts team will be in touch to discuss an appropriate refund.
I sent a message to my city or home host and haven't heard back, what should I do?
Most hosts respond within a few hours. If you message a host prior to the start of your trip, keep in mind that you may be in different time zones or the host may not have internet access at the moment. If you haven't heard back and your trip or experience is coming up, try calling the phone number that is provided in your itinerary in the app. Or, reach out to the City Hosts team at trip-support@airbnb.com and we can help.
Changing or canceling a trip
What is the Trips Hosts' cancellation policy?
You may cancel a trip up to 7 full days before the start date and receive a full refund. Within 7 days, you may contact the City Hosts team who will help determine an appropriate refund. This cancellation policy is subject to change for future bookings.
Can I change or cancel my reservation?
You can change or cancel your reservation up to 7 days before the start of your trip without any penalty. Within 7 days prior, refunds on cancellations or the ability to make changes will be based on the city hosts' cancellation policy and current availability of trips. To change or cancel, contact the City Hosts team at trip-support@airbnb.com.
What if my home host cancels?
While rare, circumstances can prevent your home host from being able to accommodate your stay. If your host cancels, you'll be able to apply the cost of the home towards a new place, which we'll help you find. If the new home is cheaper than the original, you'll be refunded the difference. If the home is more expensive, we'll cover the difference. You may also request a full refund for the trip.
What if my city host cancels?
While rare, circumstances can prevent your city host from being able to accommodate your trip. If your host cancels, you'll be able to apply the cost of the trip towards a new trip from our available supply, which we'll help you find. If the new trip is cheaper than the original, you'll be refunded the difference. If the trip is more expensive, we'll cover the difference. You can also request a full refund for the trip.
Contact Us
How do I contact the Airbnb City Hosts team?
If you have any questions that aren't answered here, you can email the City Hosts team at trip-support@airbnb.com. We respond quickly during PST business hours (8am-7pm) and first thing the next day for after hours inquiries.
During your trip, we are here 24/7! Contact us via the Trip App for assistance.