I'm updating my Airbnb listing. Airbnb functionality has changed so I decided to tinker and pretend I was booking a stay.
The app booking calendar has changed. If you know your dates, it functions as expected plus has a "date wiggle adjustment" function.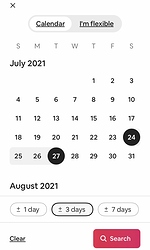 Flexible on your dates only allows weekend, week, or month. My listing requiring a 3 day min rental does not display for weekend rentals.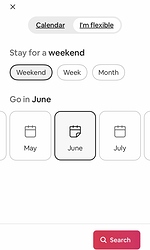 I don't like the flexible calendar function. Phooey.
Are you affected too?