In Japan, Why the rooms Rate is multiplied by number of person?
??? This is an international forum. We need more information to be able to answer you.
The nightly rate is NOT multiplied by the number of people – it is multiplied by the number of nights the guests (as a group) are staying.
Sorry Ken.
So the case is that I want to book a room in Shizuoka, Japan.
First I just set the date and the location, then all the available properties and the rate appeared.
But then when I change the number of guest, the rate changes, and it is multiplied by number of guest.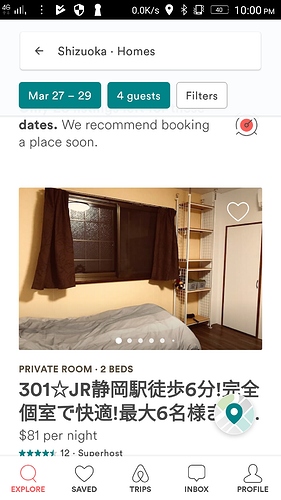 Is it normal?
Yes, this is normal. Many hosts charge for extra guests. More linens and utilities are used and the wear and tear is greater. There is not an airbnb standard on this, some hosts don't have a per person charge, some do.
Hello @erast2002
It looks like you have wondered onto a forum for hosts by mistake.
As a guest you can post on Airbnb Community or just give Airbnb a call if the information on the Airbnb Help Centre doesn't answer your questions.
Agree. Please take your query directly to Airbnb. We aren't a customer service arm.
Dear k9karma, Helsi and konacoconutz, thank you for your replies