tl;dr
We had a single person book with us and left the place kinda messy and we found some stuff that could be drugs... maybe meth... but we're a little naive on that front. What would you do? Also, we have not left our review yet... any thoughts there?
Context:
We had a gal who booked for one person, two nights. She mentioned that her home was getting remodeled… she is pregnant, and couldn't be there with all the debris.
Over the course of the two nights/days we saw several different cars and male guests coming/going. At one point we could hear at least two men speaking in the basement. Nothing crazy. The extra car, different than the one the guest showed up in, was there all the first night, and the second night there were two cars in our driveway.
When they left, there were two beds that were used, as well as a sheet (not one of ours) sloppily folded and left on the couch. The couch had a ton of hair on it (we have a no pet policy), and it appeared that there was a lot of hair on the sheet as well, and that's where it was coming from. Also found a bunch of pet hair on the carpet.
Now to the meth part… I'll just start by saying this totally may not be meth, but we googled what meth looks like and what they left behind looks a lot like the pics of meth on Google Images.
There was a pen box by the side of the bed. See the attached pics. Also, in the cup holder, on the living room couch, there was a tiny baggie, about 1.5"/1.5" with powder residue, and some uncrushed pieces of the rock looking substance. The baggie texture feels rough as though the rocks were crushed in the bag.
What do you think… is this crystal meth?
Should we turn this over to the police?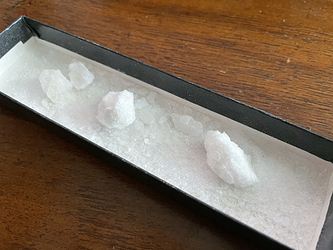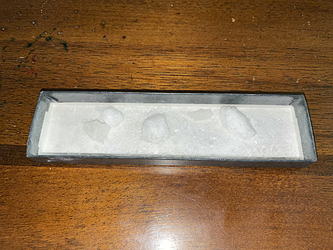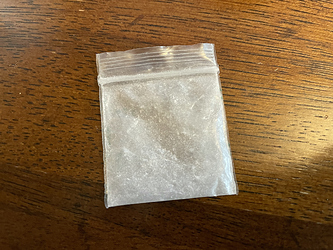 Side note: We have 5 beds + 2 air mattresses available and request that people not sleep on the sectional (excessive wear and tear on our last couch required us to recently buy a new one and it was a couple thousand dollars). It seems that they must have spread out that sheet they brought, all over the couch b/c there was hair everywhere. Maybe it was for an animal to sleep or maybe a person slept out on the couch. I guess we'll never know. ¯\_(ツ)_/¯
What would you do?