Hi, thanks for your request. We are working hard on finishing the beta. Probably we´ll have beta ready for testing mid of April. We´ll invite the whole audience and anyone who is interested approx. two weeks beforehand. Thanks for your patients!
Is your calendar syncing tool active now? Would you please send me a limk? Tia!
️
Hi @CarolinaFran, yes you can now register for beta testing. Please register here https://www.swease.io
Launch is just around the corner. Happy to hear your feedback. Cheers! Pascal
@CarolinaFran You also might want to check out our tool that syncs with all your calendars and alerts your cleaners to upcoming turnovers automatically. It's free - check us out at TurnoverBnB
Tim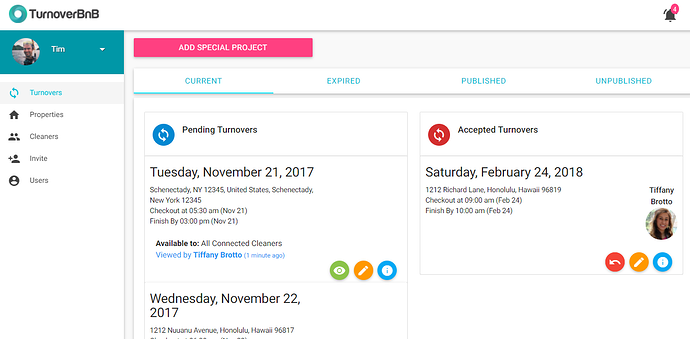 Just tried it, very useful.
@Kerensa_Baker Awesome! Let me know if you have any issues or suggestions for improvements to the platform.
Tim
Hi all, I am having an issue with iCal and sync between VRBO and AirBnB.
Basically, the import/export function seems to work and both calendars appear as though they are sharing the data with one another. However, when I hit export calendar on VRBO and then paste this calendar into google calendar, it only shows the bookings for VRBO. I want to use one of them as the master calendar that I can load into my google calendar and to some external software that I am using for operations.
What am I doing wrong??? Is there a setting I am missing?
Read up on iCal synchs, and how they work. The info is out there.
It's not the most efficient for STR, and in your case you need to import both calendars into Google.
Topic closed, four years old…
JF