This is my first time seeing this under Pricing on my dashboard. On the right side there is box labeled
"What price gets bookings?" with a green "Compare Prices" button. Clicking that gets me a "Nearby Places That Have Booked" screen.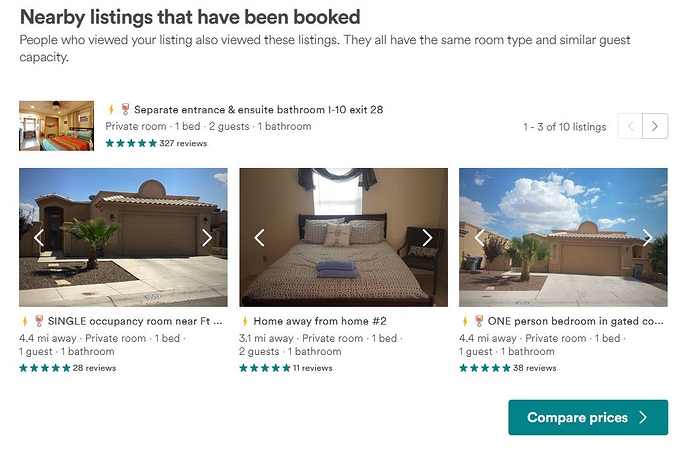 This is fascinating because it gives me actual examples of the places Air is comparing to mine when they give me their bogus price lowering bits on the calendar page. In looking at these 10 listings I see glaring differences with my place: one is in Mexico and should not be compared with any listing in the US. Two only allow 1 guest, I allow 2. They are not clickable links so I can't easily compare other amenities or features like private entrance or off street driveway parking.
Now I click on compare prices and this is my screen; here comes the good part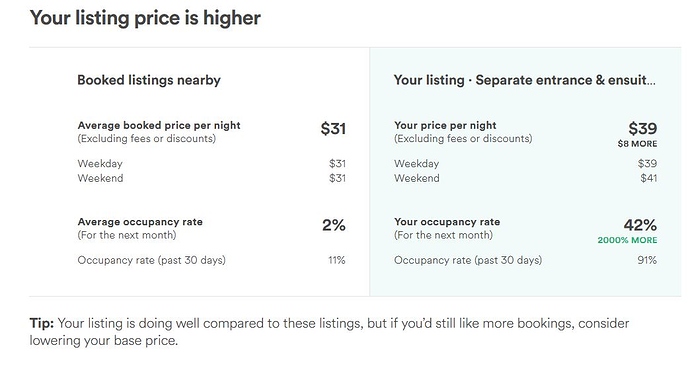 So, my listing price is higher but I'm doing 2000% better. OMG, LOLOLOL. I'm doing well but if I'd like to be booked 100% of the time instead of 91% of the time I can try lowering my price. I know we didn't need proof that price is all Airbnb cares about but it's still gobsmacking to see it right there on the price lowering tool. And next month that is now 42% booked will be 90% booked before the month is over. Although I might just raise my price.
Some of you may have seen this tool before but if not take a look at yours, it's probably good for a laugh.