When Vrbo or Airbnb asks if you will rent to a guest again, will the guest be informed?
No -they just no longer see your listing and they can't instant book again with any host
If you say "No, wouldn't host again," then the guest can't use IB. IF you give a thumbs up, then they can.
Actually they CAN IB - unless the IB host uses this feature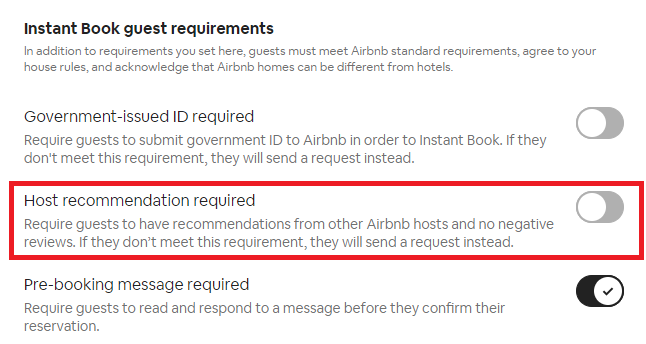 @Jefferson you're correct. I clicked that button so I could avoid the issue entirely and also clicked "Government Issued ID" because… at the least a license.
While they can't instant book, they can (and it has happened to me) message you (using their prior booking message thread) to inquire about staying again.
That's why we need a real block option.
The problem is they can STILL be crap guests and IB. Their rating is not taken into account. One more thing that Air does that is very guest-centric.
True. I've had 5* rated guests who were an absolute nightmare and 99% of my 0 review guests have been fantastic. It's the communication before the booking - or if IB, the messaging once the booking is made.
I'm wondering why you asked the question?
I asked bc I wouldn't want any negative action in return.
We weren't comfortable with our last guest. Not to mention all the wax. Wax on the sheets, floor, rugs, shower and sink… pink and blue pieces of wax. And we don't have candles.
I sincerely hope that you made an accurate and detailed review, so that other hosts can see what your guest is like. Reviews are for the benefit of other hosts. And, while specific issues that bothered you might be less important to some hosts, the host who 'tries to be kind' or 'didn't want the guest to feel bad or retaliate' is doing a big disservice to us, hosts who rely on other hosts for guidance.
I've read a lot of posts where hosts fear some retaliation from a guest simply for leaving an honest and negative review.
But I've never read of such a thing actually happening. What, a guest is going to come back and burn your house down because you said they left the place filthy? I don't think so.
I assume your house rules prohibit candles and other open flames.
This was actually a Vrbo guest, so I couldn't leave a detailed review like we can with Airbnb.
I totally agree with @muddy . There are some of us here who have been in the STR/B&B business way before Airbnb - or indeed before the internet - was invented. I've never had any retaliation, ever, and that's with thousands of guests.
During my time as a teacher (1987-2015) my name, address, and phone number were in the phone book. Some other teachers where aghast because that meant any student could look them up and cause mischief. I guess they feared things like keyed cars, egged and toilet papered houses. I never had a problem with that. Once a parent called me at home after hours. I didn't appreciate it but it wasn't worth unlisting my number. Some people are paranoid, with or without cause, it's hard to say.
True that and AMEN! I couldn't agree more…
They don't have to come back to retaliate; I've written about two different guests who retaliated to the "would not host again reviews" i had left.
both wrote a inflammatory lies in their post reviews.
one contacted AirBNB legal claiming discrimination must be the cause of the review.
Sure, they can do that. And they can post on their Facebook amd Instagram accounts about what a horrible experience they had and never to book with you.
But if hosts are scared to post an honest review of an objectionable guest, those guests just keep getting passed around.
Usually those lies they post as review responses are pretty obviously lies, as they are usually outliers among plenty of great reviews.
And review responses by guests appear on their profile page, not the host's.
As far as them reporting hosts to Airbnb for something totally made-up, well, that's a drag and can be a big hassle, but not much to be done about it. Awful guests can do that anyway, just to try to scam a refund, even before they see the review they've been given.