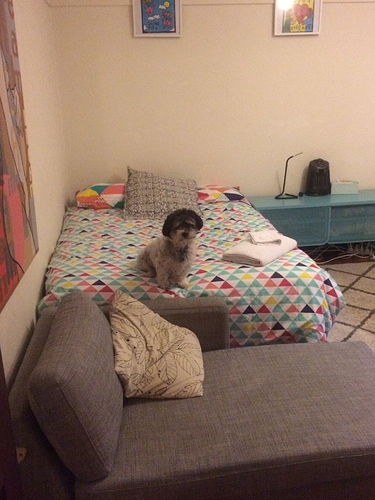 This is buddy waiting for guests
Hi all! I have a new idea

(to me anyway!) after booking my second Airbnb with my little Maltese Poodle as a companion. We are off to Bondi Beach (12hr drive)

and our last trip was to a castle in wine country (4hr drive)

.
Whilst it's amazing to find Airbnb's who take dogs, and I'm lucky I have a small fluff ball most people have not stereotyped as a 'problem' dog, it's still hard to find accommodation. I don't even take dogs in my private room! Virtually no hotels or motels in my country take dogs.
What if pets, at least those that travel as guests, get their own profile on Airbnb, so potential hosts can see their age, vaccinations, behaviors, needs, pictures etc. Most importantly, after a stay hosts leave a review for the pet. If there are no problems then it might encourage other hosts to consider him as a good guest in the future.
This might work for hosts with pets too. A lot of my guests book because of my dog and many leave reviews that he was the best bit of their stay.
I told my son about my idea and he just said 'but you don't run Airbnb mum, just a room'. Duh

If others think it's a good idea or have improvements I might write to Airbnb about it.
This is Buddy on the road