Sometimes when I open my calendar and pricing I see this proposal from Airbnb to set up a special offer: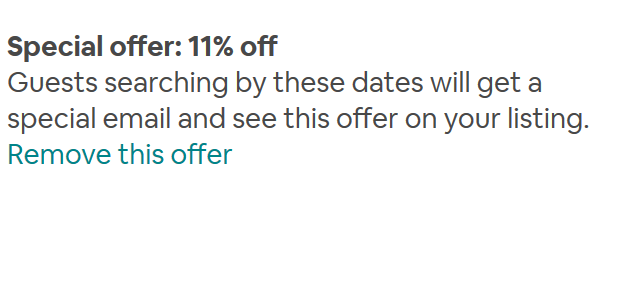 I usually try to implement the airbnb suggestions if possible hoping it will make more more visible.
I found this one to be VERY misleading.
I wanted to rent the low season, last minute weeks remaining in January so I accepted this 11% special offer proposal. The way it is written, it looks like you specify the weeks and the guest will get 11% on THOSE weeks right? Not on any week he wants on your entire calendar?
So thinking it meant people would get 11% for booking the last minute available low season January weeks I clicked OK on the offer.
Much to my surprise, someone booked my last available HIGH SEASON JULY week and got this discount! In fact the discount is for booking ANY period, if you make the reservation during the low season weeks. WTF.
Wow.
Anyone else have experience with this.