Firstly thank you to anyone who suggested I not leave. I do enjoy this forum for some of the back and forth but mostly because I have learned a lot from it. My mother always said "if you can't say anything nice don't say anything at all" which to be honest was the height of irony.
Anyway I am taking a week off from Monday to travel around Victoria with the dog. I am staying at 3 AirBnB places, which I have never done before. Here is what I learned when looking for places and booking (as a host with 200+ bookings):
Location and (maximum) price plus cover photo and description were what attracted me to the listing
I didn't read reviews but only looked at 5 star places with lots of reviews
Having a dog with me I did read the rules around dogs so she was allowed to sleep indoors
None were on IB so I wrote a small essay asking if I could stay and pointing out I would be a good guest as already a host. As one involved sharing a space with a single woman it seemed like the right thing to do.
I was grateful they all accepted my booking within a few hours. If it had been longer, like more than half a day, I would probably have looked for somewhere else.
Only after they accepted my booking I went back and read more about the host and the rules etc. That seems the wrong way around but maybe that is what most people do.
I told them I would let them know on the day my ETA and keep them updated. They will probably get a series of messages like "I am 2hrs/1hr/30mins/5mins away".
I am not saying this was the right way to do things. But it has changed my thinking about how much guests read the listing before booking. A bit odd really as I am a very analytical person and when booking hotels do quite a bit of research before booking to make sure it is the best place for me. Even if I find a place on TripAdvisor etc I usually book directly with the hotel.
Will let you know how it goes. I am quite nervous about (I hope) getting 5 star reviews from the hosts. Based on my own experience and what I have read here I won't be pooping on the sheets, turning up drunk or eating chips in the bed. If nothing else on this forum I've learned that much.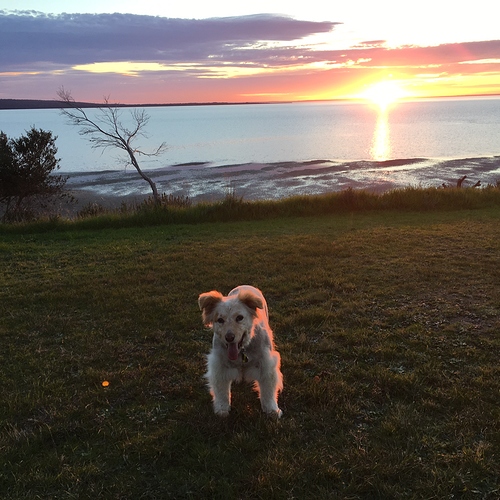 Photo of the lovely dog, Jade, 14yo BC, on the cliff park opposite our place.