We have several sets of white sheets that we rotate on our two AirBnb beds. I have come up with a solution to two annoying issues, which I thought I'd share with other bedmakers. #1. How many times do you put the first corner of your fitted sheet on the mattress, just to find it's going the wrong way? So you take it off and put it on the other corner. # 2. Do you spend too much time trying to figure out which top white sheet goes with which bottom white sheet? (In my case, they are all different brands and so they tend to vary in color and/or material just a little, just enough to bug me.)
Solution to #1: I have pinned a large safety pin on the inside of the corner of the fitted sheet that goes on the bottom right corner of the mattress. No more wondering! Solution to #2: I picked up some multi-colored plastic O rings at the hardware store, one matching pair per set of sheets. I slipped one on the safety pin, and then put its match on another safety pin and pinned it to the bottom right corner of the top flat sheet. Now when I take them out of the laundry, I can just match the O rings.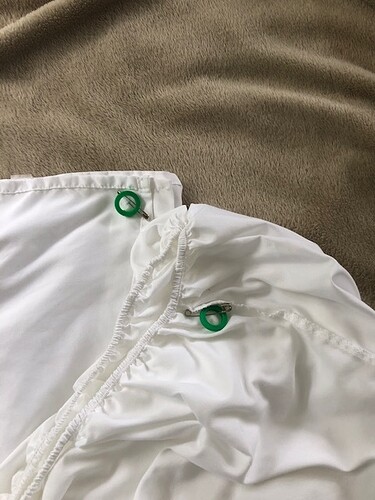 This may be more work than some of you are interested in doing, but if you go nuts every time you put the fitted sheet on the wrong corner, this is a game changer, even if you don't bother with the O ring.
Now, if someone could just tell me a fast easy way to make up a bed without walking back and forth to each side a hundred times…