It's been a funny old month or so here, very different to our usual Feb/Mar where we'd expect a lot of guests from China, Taiwan (yes I know

), Japan, and Brazil here for the Flamenco festival.1
Instead, in addition to our domestic Spanish guests, we've had one Brazilian based in Europe, a Japanese woman based in France, then a whole load of other European guests and a few Brits. I'm not complaining, its been busy and they've all been good guests, the only grumbles for the past six weeks amount to a (very smelly) bin not emptied at checkout and a Dutchy oversleeping on check out day. Allegedly due to them enjoying my recommendations for the previous night
The one common theme has been their fascination with our patio, with its central lemon tree and several other potted citrus trees. The Spaniards aside, as to them it's just the usual shit they see every day, we've ended up giving a patio tour in a addition to the apartment tour!
It's been so long since we've any great number of foreign guests that we'd probably got a bit lazy at check in time, Spanish guests tend to want to get checked in as quickly as possible, no fuss, no extended tour etc and they generally don't use the patio other than to smoke.
Just to give a bit of context, our house dates from 1760 2 or thereabouts and is built around an open central patio of approximately 65m2. On the ground floor, the patio is shared between two apartments with plenty of room for two sets of guests to eat, drink and socialise etc, without feeling too close to each other.
The lemon tree is around five years old, a present from our builder to celebrate the completion of the major refurbishment (building was derelict when we bought it). Over the past few years we've gradually added two different varieties of orange, mandarina, lime, and limequat, plus of course the obligatory other bits of greenery and colour. Next on the list is an almond tree, but we need to have a read up on them first, then have a good think about placement.
Anyway, we've decided to redo our pics, and focus more on the outdoor space available for guest use. Our current pics are ancient, but on the basis we're generally as busy as we want to be, it's always been a case of if it isn't broken, why try to fix it.
The weather here has been really shitty for the past couple of weeks and the forecast for the next week is pretty similar, so I reckon we'll be into April before we get a chance to get the camera out.
However yesterday, after having a quick chat with the lemon tree about his sluggishness in going from bud to fruit, and reassuring the mandarina that we won't bin her due to a lack of buds, I ended up chatting to the lime tree about how many little babies she was having. I told her, if you'd two legs folks would really be talking about you, but as you've only a trunk, all is good.
So, just like about to be new parents here's just some of our babies, think about it as the downtown urban fruit farmer's equivalent of an ultrasound: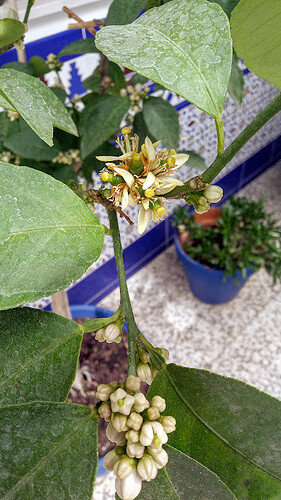 I don't expect them all to survive, but from experience I'm predicting a bumper crop of limes this year, probably ready around late November. So, it's party time at Casa JohnF

with caipirinhas made 51 brand cachaça and mojitos with whatever cheap shitty white rum is on offer in Mercadona, together with fresh mint from our urban herb garden.
Incidentally, the other trees output is always put to good use, lemon curd, marmalade and so on. Great bartering produce for when you need favours
JF
1 Oxford comma inserted solely for @JJD
2 We believe the building (front section) to be earlier, possibly going back to around 1690, but further research at the museum required to get a definitive answer. The street was named after a local family in 1530 so who knows what we'll find out