1st girl - 2 stays, 5* but the 2nd one is a Ukraine donation thing.
Hi Gillian, looking to book this beautiful Cottage for girls weekend away. Would like to host nice garden hens party on the Saturday night. Hope this is ok? Thank you, T
so upon further questioning she wants to have a "low key" party for 20 people.


2nd group. joined in July 2022, zero trips yet.
Hi is it possible to checking in early like 8 or 9 am as we checking out same day near 4 pm . Thanks
I have responded to each but anyone want to have a crack at a super polite response?
---
I'm actually entertaining the first one, we've hosted a hens group before and we are on a 100acre farm and have a great event space to put them. So the conversation has progressed further.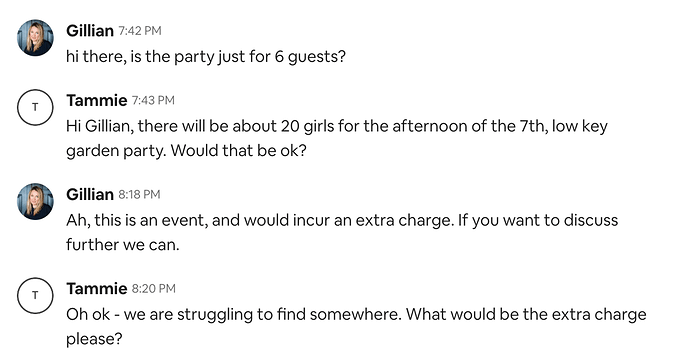 but of course she's struggled to find a space to host her party FOR FREE. lol.
her initial booking is for 6pax, for 2 nights, which is over $1000 for her.
We do have the space for all the cars and people, i'm a touch concerned about the toilet situation but reminding myself that girls only wee at events is reassuring… overall i'm not keen on this one, as this is peak summer hols, but if the alternative is a family with 3 annoying kids and 2 dogs, for the same money, i'm kinda thinking this one is ok if she agrees to pay more.
the 2nd one is a big NO, fk off type thing, but I don't want to decline the request in case that's hurting some magical algo recipe.
so who has the politest decline phrase?